The Lasting Appeal of a Basement Laundry Room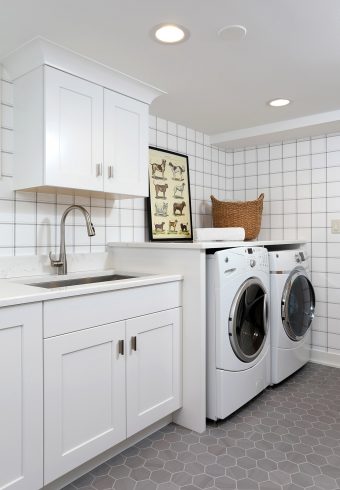 In the past few years, laundry rooms have moved up in the world. Families are choosing to combine their first floor mudroom with the laundry room, creating a one-stop drop and go spot for grubby sports gear and other frequently laundered items. Second floor laundry rooms have also increased in popularity. Having the laundry located upstairs is convenient for washing sheets and putting them back on the beds without going up and down the stairs several times.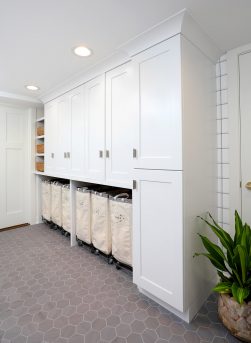 But don't forget about the basement, as your lower level remains an excellent location for the laundry room. "If your laundry room is in the basement, it may be time to freshen up the space," says Normandy Designer Karen Chanan. Karen adds, "If the space is depressing, we can make it appealing. If it's already nice, we can elevate it further to function better and be more enjoyable when you're in there."
Once the plumbing is in place, insulation is important. You have water lines for both the washer and the sink. Plan to keep those working well during a deep freeze with good insulation. Even when working in an existing basement laundry room, take the time to assess the plumbing and make the necessary improvements and upgrades. Choose flooring that can handle a little water. Tile and cement are good options.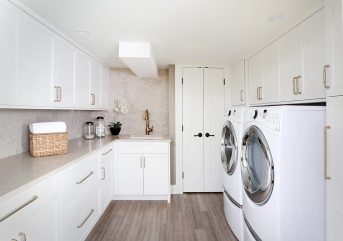 One benefit of having your laundry room in the basement is space. "You can spread out and give yourself a folding area with room for multiple laundry baskets," says Karen. You can add cabinetry, hanging racks, possibly even a spot to bathe the dog.
A second, less obvious benefit is that a basement laundry room can be your own little escape room. Pop on down for some time with nothing but the hum of the dryer to keep you company.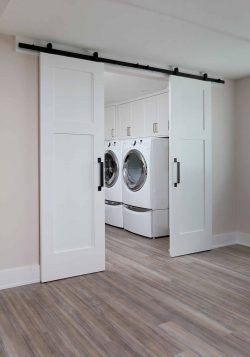 We've seen some incredible basement renovations recently. Where your basement is a true family destination, it's nice when the laundry room is as attractive as the other rooms. "If you have a beautiful basement, you want a laundry room that complements the design. Then, when the door is open, you can feel good about people peeking into your basement laundry room," says Karen.
If you're thinking of a basement or whole home remodeling project, you can set up a time to talk to Karen about the possibilities. There are excellent ideas in our Normandy Remodeling photo galleries. We share projects and inspiration on Instagram, Facebook, Pinterest and TikTok. Follow along with us for doses of design throughout the week.