Small North Shore Kitchen Makes the Most of the Space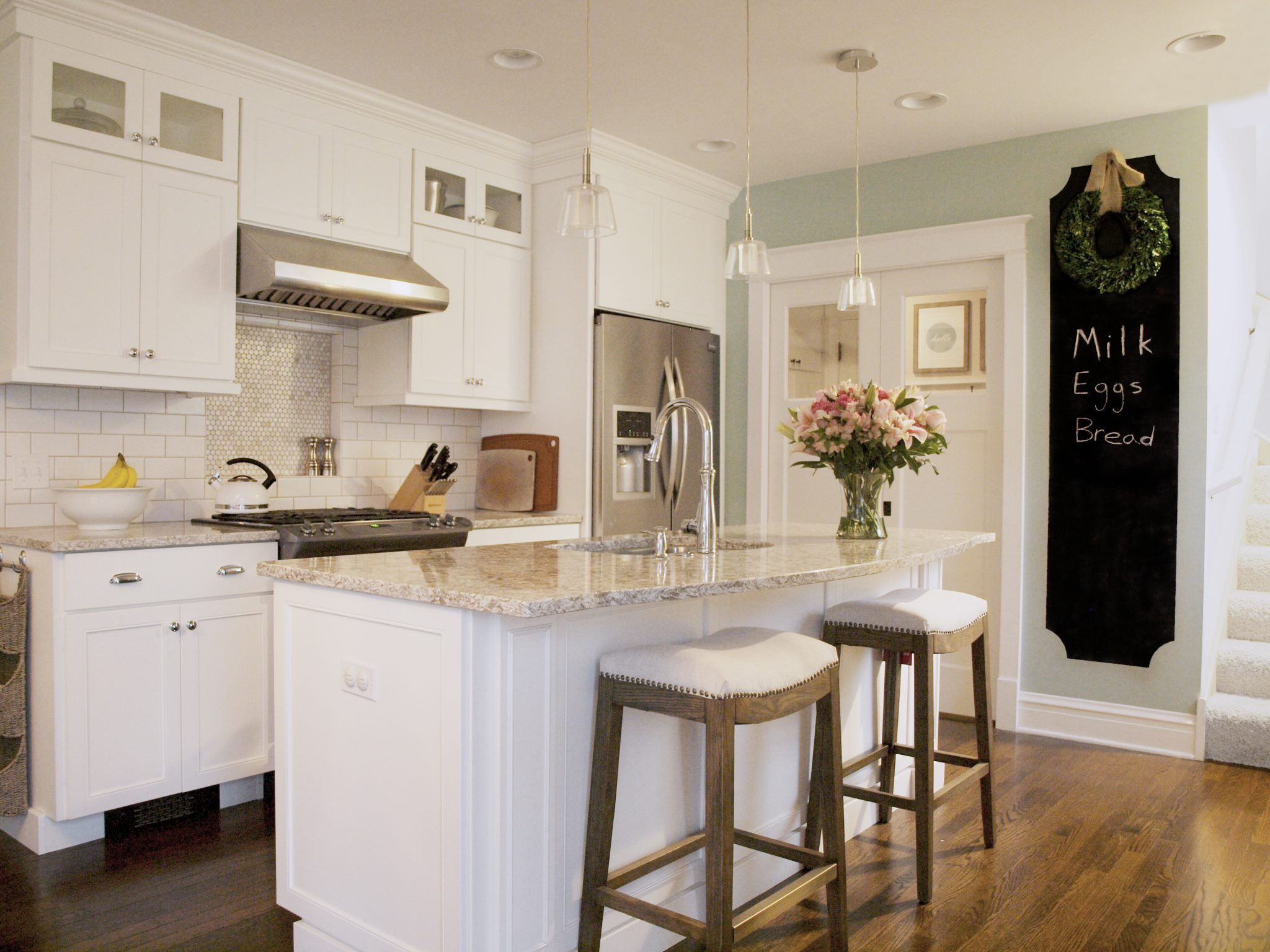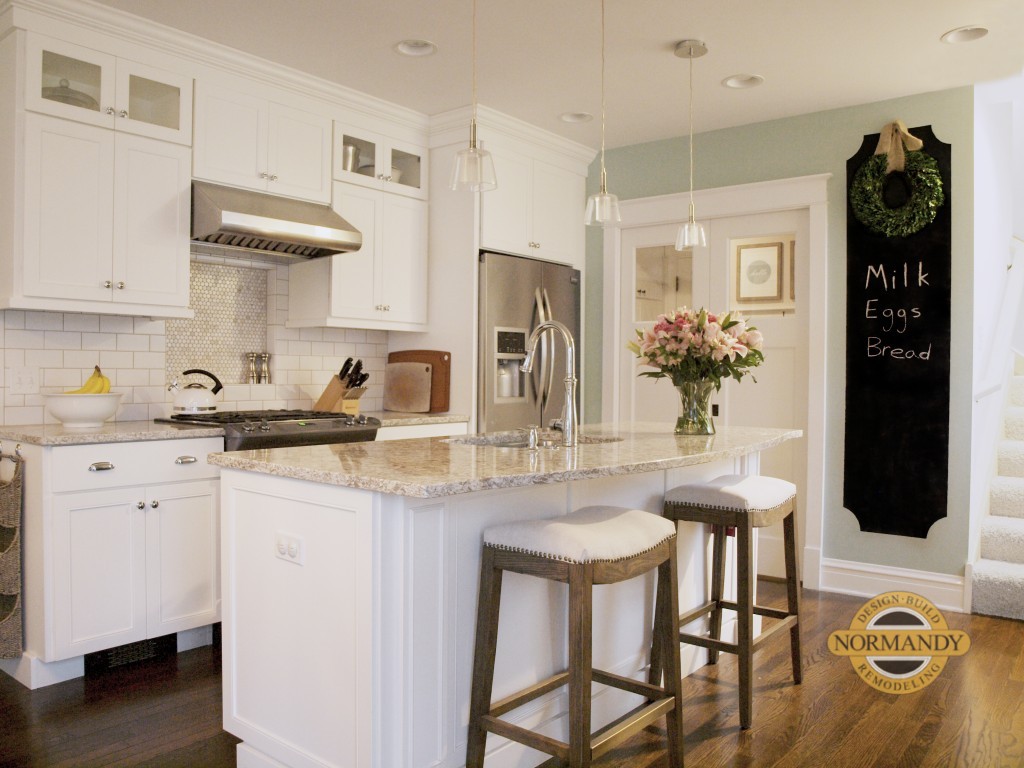 In homes of modest size, kitchens can tend to be on the small side, but that doesn't mean they need to feel cramped.  Thanks to some layout changes and creative design, this kitchen remodel by Normandy Remodeling Designer Leslie Molloy, CKD was able to overcome its small footprint to create an open floorplan that connects the kitchen, dining, and family rooms.
The original kitchen in this Evanston home had a peninsula in the middle, bisecting the room into two spaces; a smaller work area of the kitchen, and essentially a walkway to the stairs.  Removing this peninsula and replacing it with an island helped the traffic flow of the home and created better sightlines throughout; making the home feel more spacious.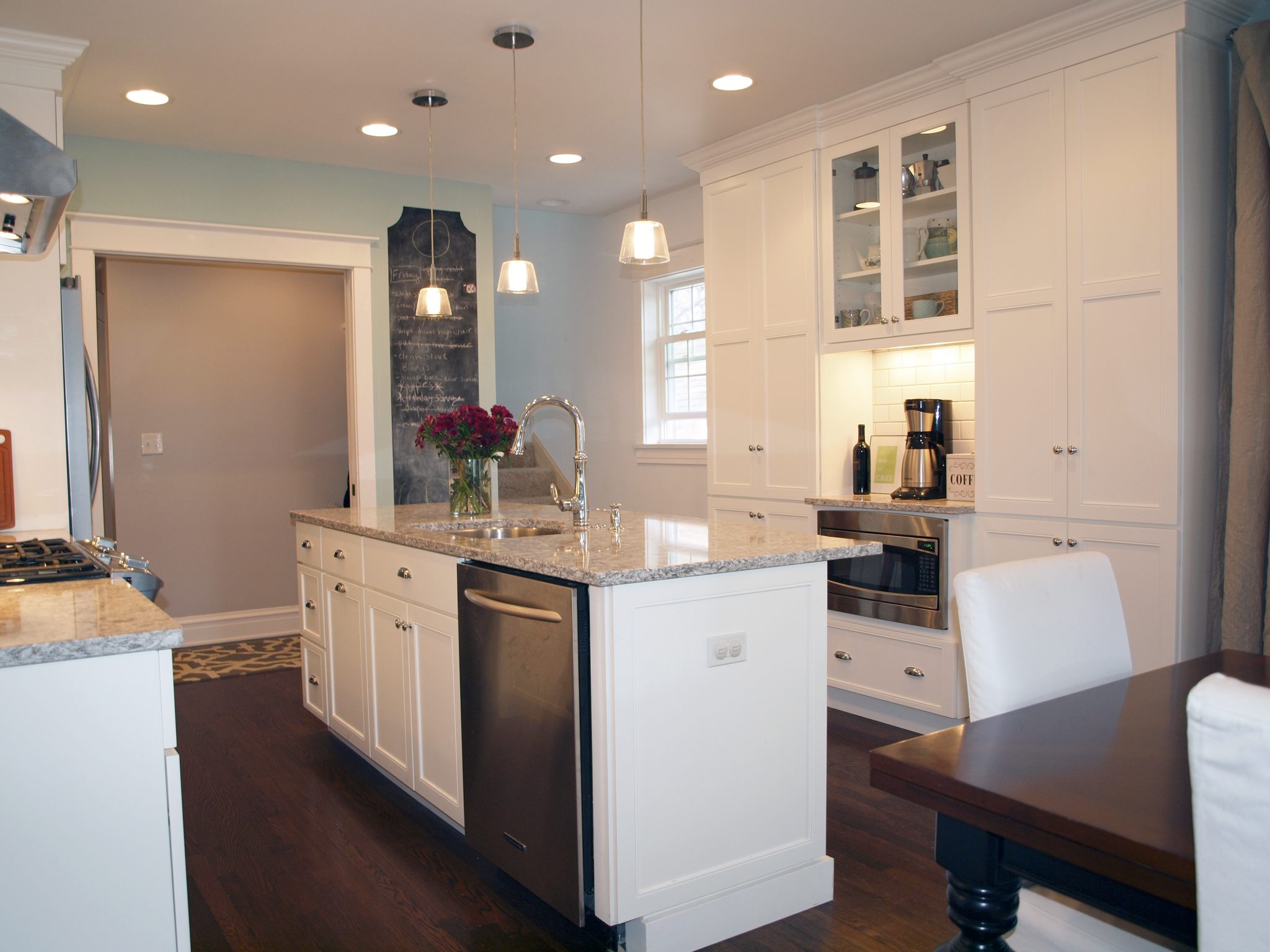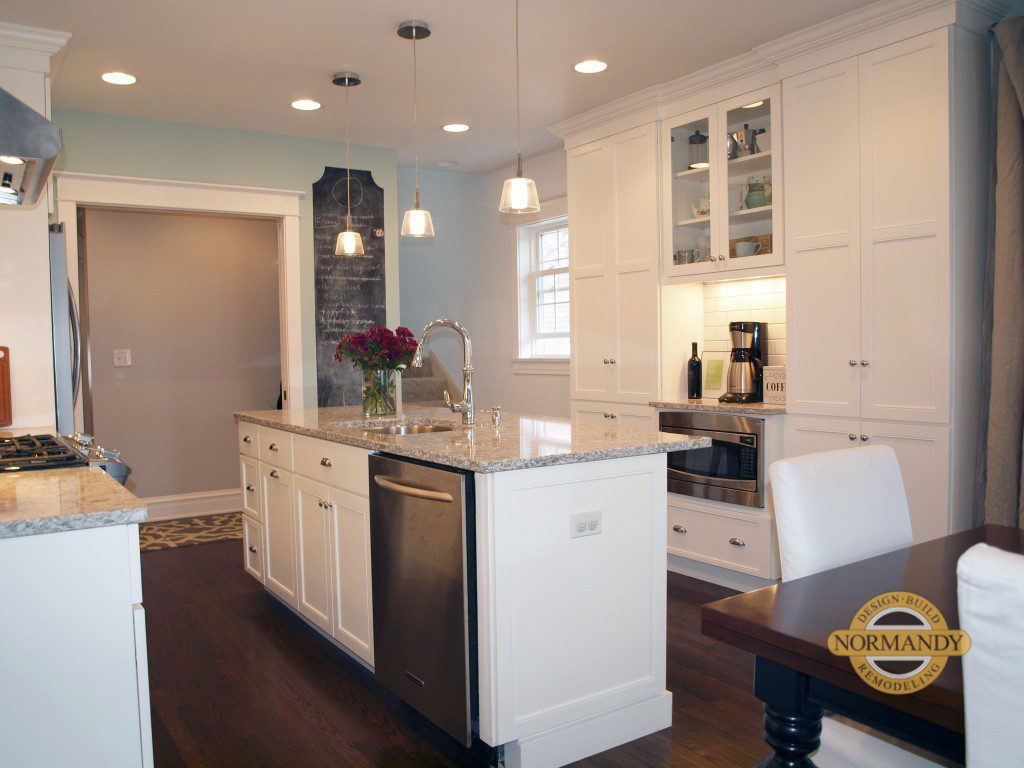 The cabinetry behind the island stools is slightly more shallow than normal, to provide adequate walk space in the kitchen. Adding a microwave just below the countertop in this section of the kitchen gives the space purpose.
Additional steps were taken to create a more open feel to the home. "By combining the dining and kitchen space, the two areas now have a greater tie to one another, and it created additional options for changing the layout of the room," says Leslie. "We further opened up the doorway between the dining room and the adjoining living space, and flanked the opening with decorative cabinetry to provide additional storage to the kitchen area."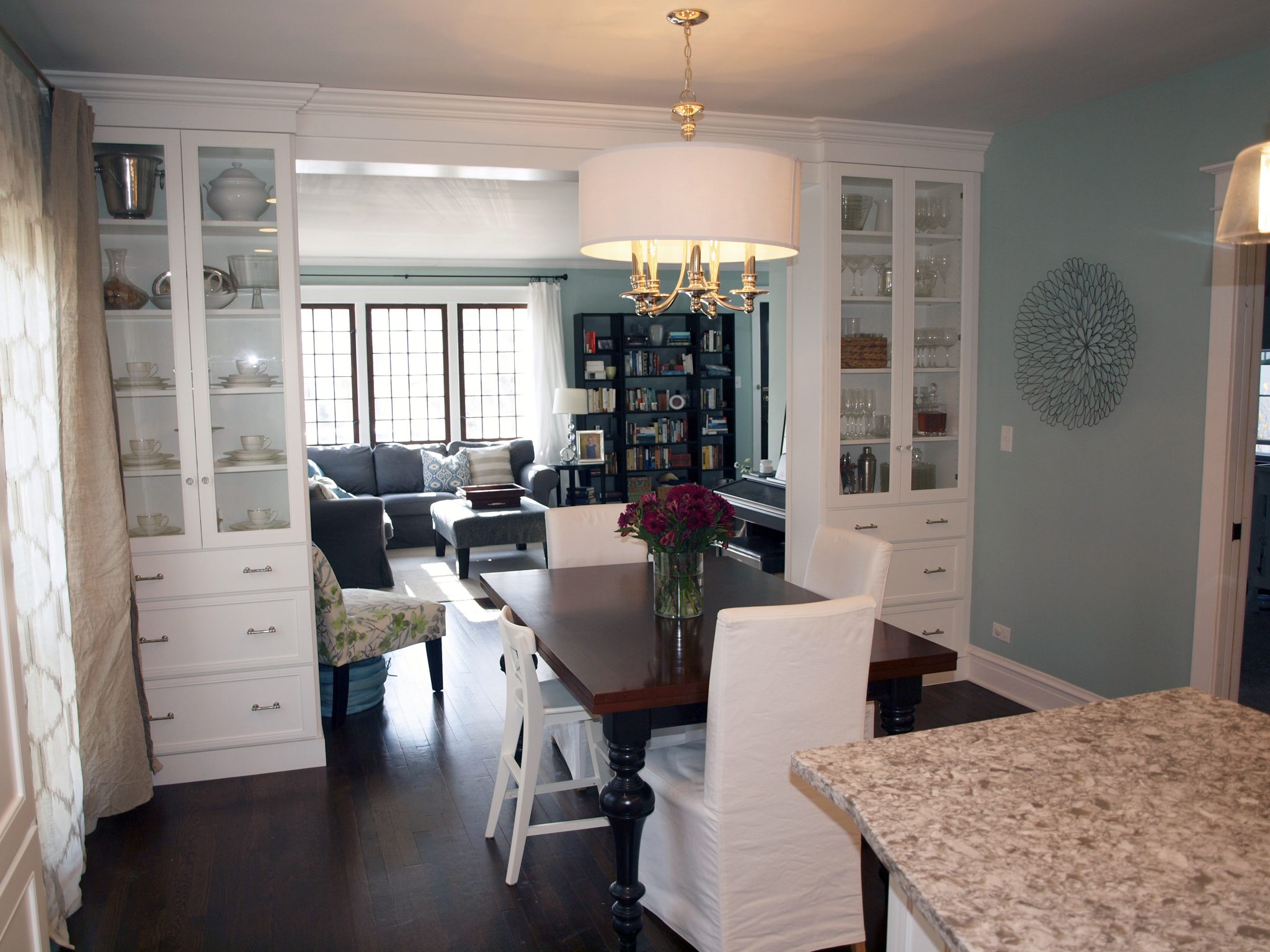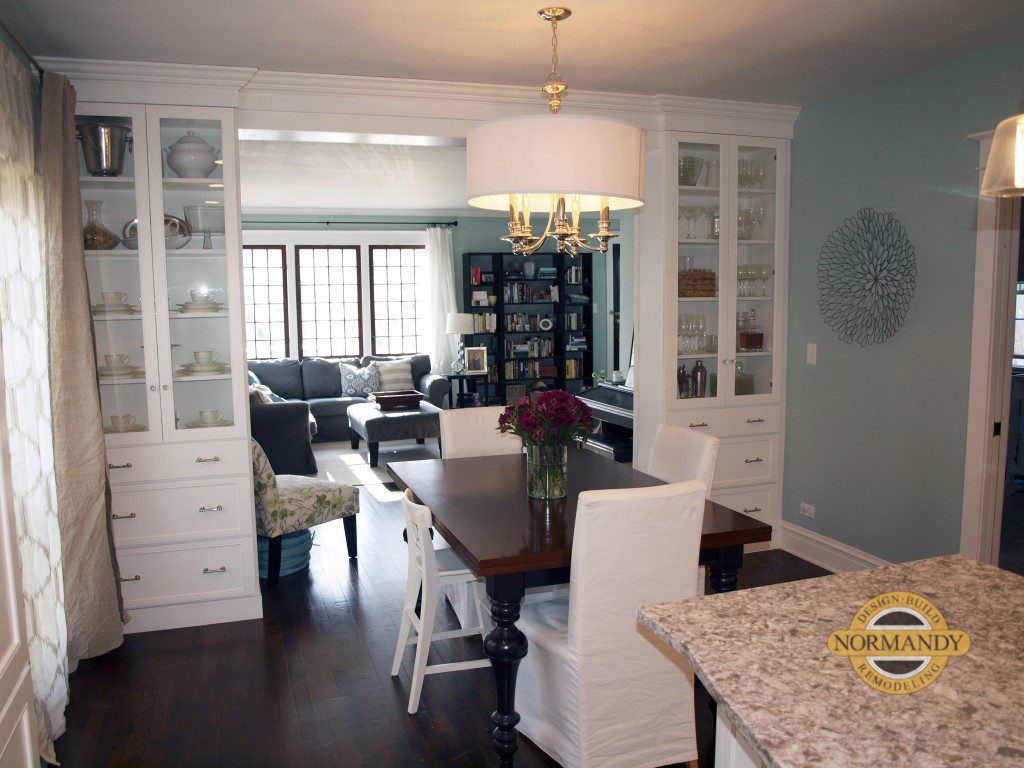 At the opposite end of the kitchen, behind a set of pocket doors, you'll find a mudroom area that gives the family a place to keep everything organized and out of sight.  The pocket doors are solid wood on the bottom to conceal any clutter, and glass on the top to help the mudroom area feel more open.
Details make this kitchen a perfect fit for the home & the family. The storage niche behind the range features penny round tiles and provides some bonus storage. The chalkboard paint in the kitchen lets the kids play "Pictionary" while dinner is being made, and the mudroom pocket doors have become the perfect sound damper for sleeping in on lazy Sunday mornings.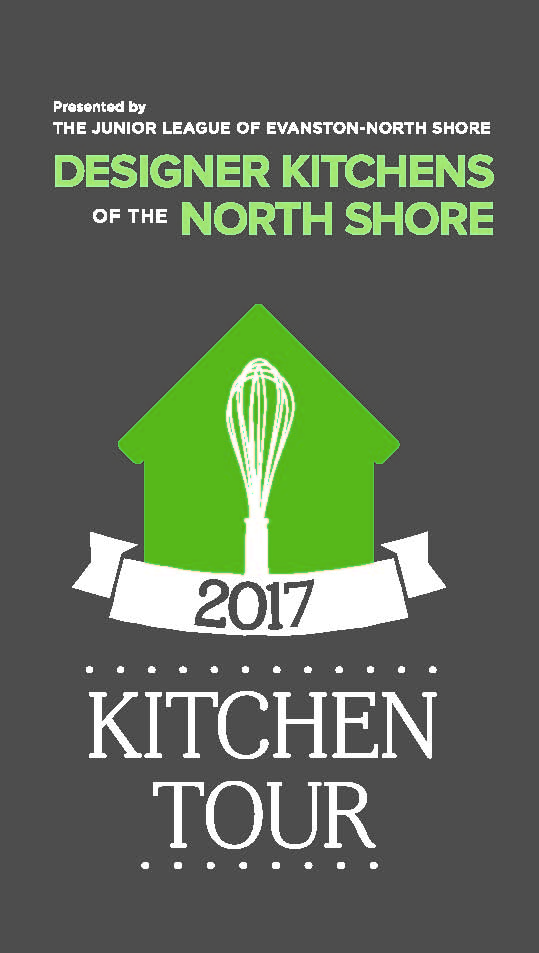 This kitchen will be featured on the 2017 Designer Kitchens of the North Shore by the Junior League of Evanston-North Shore happening Friday, May 5th. Tickets and additional tour details are available if you would like to get an in-person look at this lovely kitchen.
If you're feeling inspired, and your kitchen layout isn't working for you, schedule a time to talk with Leslie about the possibilities for your home. You can also register for an upcoming kitchen remodeling seminar, or find inspiration photos in our photo gallery, on Facebook, or Instagram.