French Door or Pocket Door: Which would suit your interior?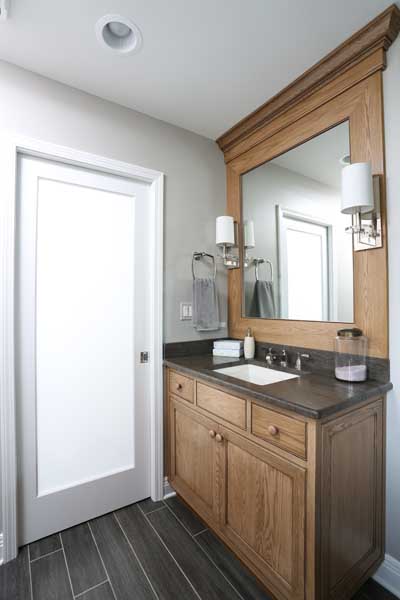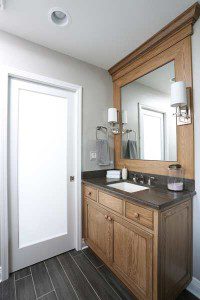 While everyone is familiar with the standard wood interior door found in homes across America, there are two unique styles of door available when a typical door doesn't work well. When deciding which door to use, it is important to consider its purpose. Privacy, natural light, or tight spaces can really influence which type of door is best, and not surprisingly, there are options that address these specific concerns.
If space is your problem, the pocket door is your solution.  Pocket doors are ideal for maximizing space in a small area.  The pocket door slides directly into the wall itself, making them perfect for rooms with cramped layouts.  These are commonly used where a typical door would be left open; such as a mudroom, walk-in pantry, or master closet, and where you would not want the obstruction of a swinging door.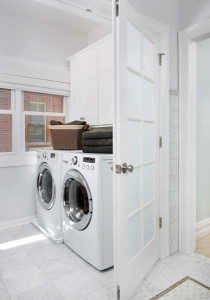 "Pocket doors are also a quick solution for hiding clutter while entertaining, yet still leave these areas easily accessible," says Normandy Designer Vince Weber.  "However, my general rule of thumb is if you plan on opening or closing the door more than twice a day, the pocket door may not be the best option.  Over time people tend to tire of the unconventional opening and locking methods and may wish they had selected a standard door operation."
If sharing natural light or achieving a modest level of privacy is something you need to accomplish, you may want to consider French doors.  Decorative French doors are most often used as entrances to an office, primary bedroom, or primary bathroom, giving a more aesthetically pleasing look to the space than a typical door.  These glass doors leave plenty of opportunities for light to abundantly shine through allowing the space to feel more open.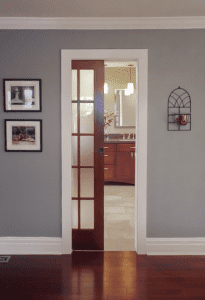 "French doors are used in several different applications," noted Vince.  "Common elements of the French door include a gridded layout atop a clear, glass door." French doors have varying characteristics but are also seen with frosted glass, divided mirrored panes, single or double doors, and occasionally even as pocket doors.
French Pocket Doors, such as the ones pictured here, allowed the homeowners to gain the best of both worlds.  Since the office was somewhat confined, a swinging hinged door would have made the room feel too tight.  The glass windows gave the office a sense of privacy, yet still added an 'open' feel.
Choosing the right door for your remodel is just one of the pieces to a successful renovation. Set up a time to talk with a designer about the different ways to use the space in your home, or even whether a home addition might be right for you. You can learn more about many different remodels at an upcoming educational seminar or follow us on Facebook or Instagram for your daily dose of design inspiration.