Say Yes to the Desk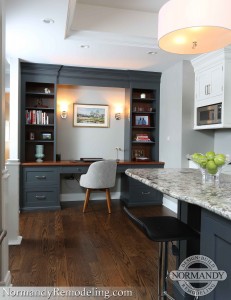 When you think of working at a desk in your home, the office usually comes to mind.  But desks these days are breaking away from a defined home office space and have made a big splash as a functional space in the kitchen.  "Desks in the kitchen are not a new idea, but in the past, they have been designed with limited functionality, which often led them to be under-utilized and wasted spaces," says Normandy Designer Leslie Lee.  "Today's desks in the kitchen  take advantage of the new ways we interact with technology while combining the ultimate message center that can also double as an entertaining space."  When debating whether to add a desk to your kitchen, consider these 5 reasons to say "Yes".
1.  Utilize Lost Space:  Desks typically work best in medium to large kitchens, and are particularly useful in a kitchen that has a unique footprint.  Desks work well on nearby walls or nooks that are loosely connected to the kitchen but may not offer easy accessibility to the meal prep space.  "Even if the desk is not physically connected to the kitchen cabinetry, it can still look and act as an extension of the kitchen, using similar cabinetry and countertops," noted Leslie.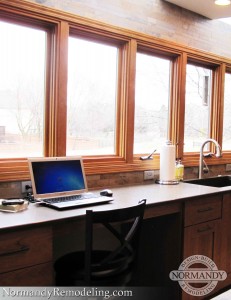 2.  Add Storage:  A desk is a great way to add additional storage to your kitchen for both kitchen items and office items.  "Because these desks frequently have a dual function as serving and entertaining areas, many people opt to completely fill in the lower area with cabinetry, and forego a traditional open space for a chair," says Leslie. "The open countertop works well for laptops or tablets and allows the area to look more like a part of the kitchen than a designated home office area."
3.  Divide and Conquer:  In order to take advantage of every inch, you can divide up storage even further within the cabinetry. Dividers for mail, bills, and filing can make the most of your space. A dedicated charging station for tablets, phones, and other family techs can also be hidden behind doors to minimize clutter.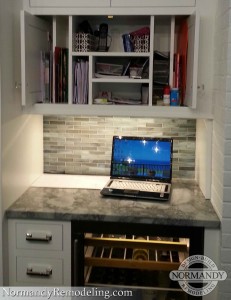 4.  Eliminate Clutter:  Since the desk is in the communal kitchen area, it is important to keep clutter to a minimum.  "Cubbies, retractable doors, lift-up hinged doors, and custom dividers within the cabinetry are perfect for family messages, business, mail, and other miscellaneous items," added Leslie.  "Retractable doors are a great way to make these items easily accessible when necessary, and just as easy to hide the family paperwork while entertaining."
5.  Dual Purpose: Since the kitchen is such a popular space for entertaining, it is important that the desk can act as a functional platform as well.  "Cabinetry that is designed to minimize clutter and keep the contents of the desk self-contained, allows the work surface of the desk to act as an additional counter," says Leslie.  "Many homeowners use this extra counter space for serving appetizers, drinks, or a small buffet while entertaining." Choosing to add a desk in your kitchen can be a welcome solution for your home and your family.  If designed correctly, it can minimize clutter, provide additional storage, and be a useful work area for your home.