A Fresh Bathroom Mix: Painted Cabinets + Stained Trim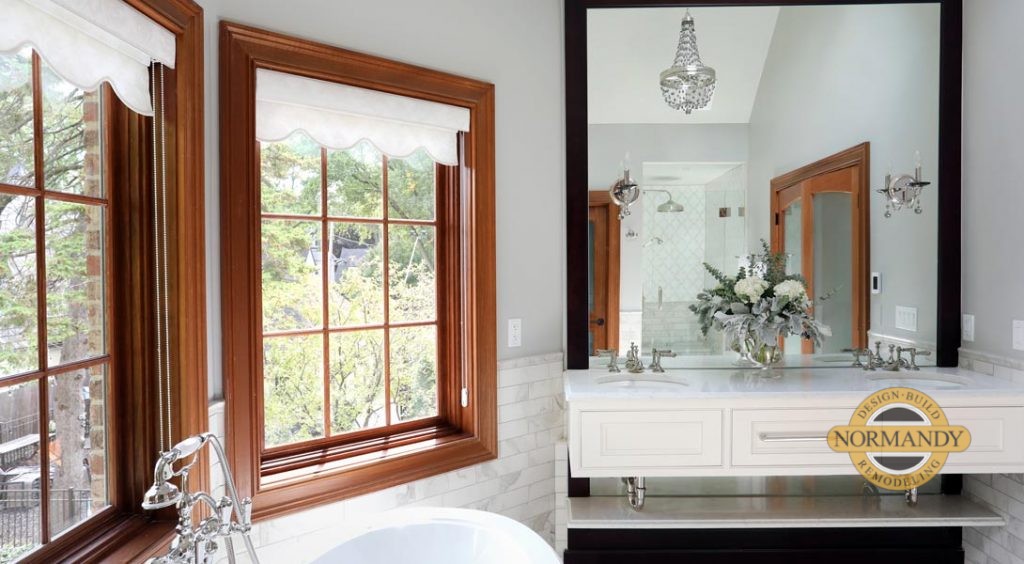 Stained trim is a Midwestern tradition, one that often comes up for discussion during remodeling. Families must decide if they want to embrace this particular design element or paint over it. Painting out the trim can quickly become a big project, because if you do one room, you'll want to do two rooms and so on until you're on the hook to paint every window, door and baseboard in the house. Instead, add in some painted elements to lighten things up and add contrast to that stained trim.
"It's very easy to mix stain and paint in a room. Painted cabinets complement the stain rather than competing with it." says Normandy Designer Laura Barber, AKBD.
Laura explains, "Many houses were built with lots of wood. Wood floors, trim and cabinets that were all in the same tones. Viewed through today's eyes, it looks dark and heavy."
Stained trim remains a beautiful natural element. Laura says that choosing a painted cabinet over more stained wood will highlight the graining and swirls while also updating the feel of the room. "Going to a painted cabinet freshens things up and gives you a gorgeous bathroom with lots of contrast."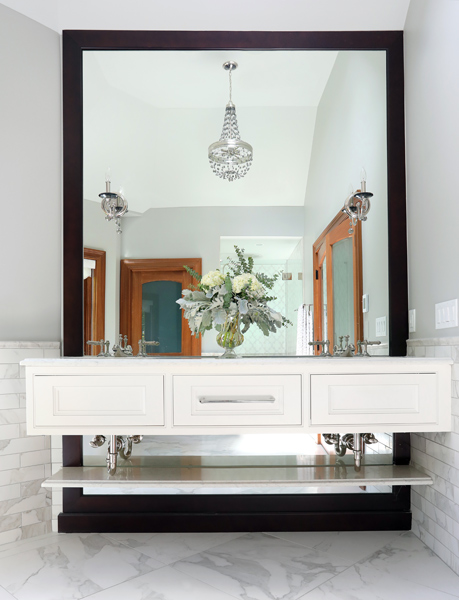 Pay attention to the undertones of the wood when choosing paint colors. If you have a lot of red in the wood, go with warmer paint. If your wood has a cool cast, choose accordingly.  A safe bet for either undertone is black, which also works with almost any paint color you choose.
Here, you see the touch of black in the trim around an oversized mirror doubling as a statement vanity. Matching the stain on the windows might have felt like looking backwards, while the black stain is a definite forward-looking design choice. "Every room can use a touch of black," Laura says.
Do you love your stained trim but not the rest of the stained elements in your bathroom? Set up a time to talk to Laura about all the ways to bring out the best in your bathroom. There are great photos of inspiring projects in the Normandy Remodeling photo galleries. We also share ideas, tips and photos on Instagram, Facebook and Pinterest. Follow along for all the latest in remodeling.