Stained and Painted Cabinets: Now in Color!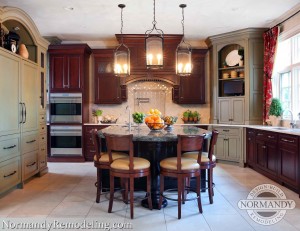 Combining stained and painted cabinets in the same kitchen has been popular for quite a few years, but one of the more interesting developments in this trend is the addition of color to the cabinets.  Up until recently, most of the painted finishes in these combo kitchens had been white, but color is gaining ground as people are looking to infuse their personality into their kitchen remodel.  We recently spoke with Normandy Designer Leslie Lee to get a list of things to consider, and things to avoid, when adding color to your kitchen cabinets:
1. Location, location, location: Determining which cabinets should be in the base color and which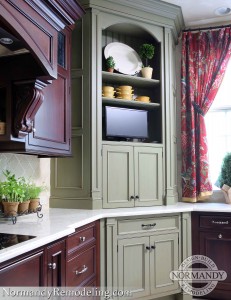 should be a contrasting color is largely about location.  "Islands are great places to inject color, since they are already stand-alone components of the kitchen," says Leslie.  Painting select cabinets a complementary color can also give them the look of a furniture piece, rather than simply looking like cabinetry that's just in another color.  A popular choice would be to make the refrigerator take on the look of an armoire.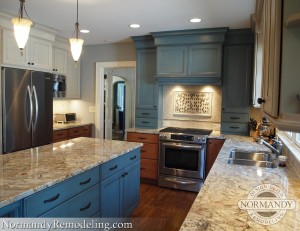 2. Harmony is key: The colors you select need to be harmonious and work together to create a coherent look.  If you're not sure which colors pair well, you can reference special fan decks by Benjamin Moore that feature colors that are all but guaranteed to look great together.
3. Size matters:  Multiple colors work best in medium to large kitchens and are best avoided in smaller kitchens.  "For example, in a medium size kitchen you might be able to do two different cabinet colors as long as all the countertops are the same," commented Leslie.  "In a large kitchen you may be able to do up to 3 different cabinet colors and multiple different countertop selections and still create a harmonious look."
4. Details make the difference: This is particularly true in traditional style kitchens. "A great way to further distinguish the painted cabinets from the rest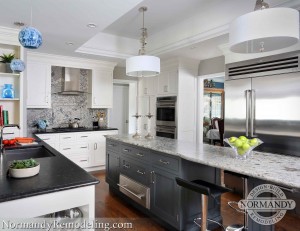 of the cabinetry in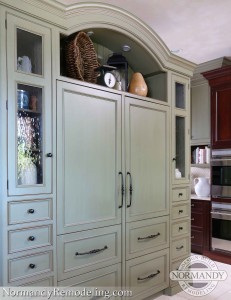 the kitchen is by selecting a slightly different door style," says Leslie.
5. Choose a base tone that suits you:  Most kitchens that have colored accent painted cabinets start with a wood stain or white paint for the rest of the cabinets that helps give the room an overall direction.
6. The sky is the limit for choosing colors:  Many cabinet manufacturers offer custom color options that let you find the shade that's just right for you.  In fact, Normandy Designer Leslie Lee will typically bring out the Benjamin Moore fan deck to find the color that she's looking to achieve.


7. Color can be timeless, with some restraint:  "Nobody wants to renovate their kitchen only to find that it feels outdated just a few years later," notes Leslie. "By choosing more muted colors that are grounded in the overall aesthetic of the kitchen, you'll minimize some of the potential for dating your kitchen."  Remember all that Harvest Gold from the 70's?  You definitely want to avoid that level of regret for your kitchen cabinets.
8. It pays to sample first: "I highly recommend getting a sample door that you've selected, with the color you've chosen, so that you know exactly what you're getting," says Leslie.  "Colors can change over time and changes in lighting can influence how you perceive a particular color."
The decision to add color to your painted cabinets is one that more and more people are considering when undertaking a kitchen remodel.  If you're wondering whether this may be right for your kitchen, you can request a meeting with Leslie, or register for one of our upcoming educational seminars.