Glen Ellyn's Favorite Kitchen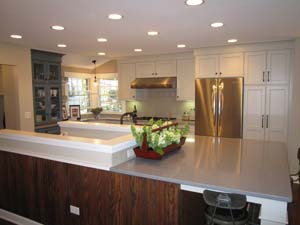 This Normandy project was just featured on the Glen Ellyn Kitchen Walk and tied as the 1st place favorite kitchen on the tour.  In case you didn't get the chance to attend the Kitchen Walk, here are a few pictures of the "before" and "after" along with some design insight from Normandy Designer Chris Ebert:
The client's goal was to redesign the interior space as well as to add a master suite. The existing space was a series of rooms that had no flow. The bedrooms were not sufficiently separated from the living space and the kitchen was a long hallway.  The back entrance is the daily entrance for the family as the garage is at the back of the house. It entered into a small hallway (3'X3') that accessed the dining room, the basement, and the kitchen. The biggest challenge was the stairway to the basement that divided the kitchen and the dining room.
We looked at several design approaches to achieve their goals. We considered a second story but collectively decided one floor was best for the homeowners. We also looked at relocating the stairs but preferred not to move them because the basement was already finished and because of the cost implications. We would be able to do more interesting interior finishes with the money we saved from not moving the stairs.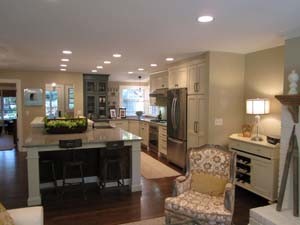 The final concept addressed the awkward and cramped back entrance to the home, the addition of a master suite, and the open floor plan they desired. We turned one of the existing bedrooms into an office and added French doors opening into the dining space. We were also able to add nice finishing touches like the custom built-ins in the new mudroom giving storage for the family's coats and shoes as well as a drop-off space for keys and phones, and custom millwork around the existing stairs to make it integral to the design rather than something we had to workaround.
"We love that our kitchen has become the center of our home. It is now a wonderful place for family and we no longer have the problem of too many cooks in the kitchen. Everybody gets involved and the outcome is many more home-cooked meals.  As a result of our kitchen remodel, we will be able to enjoy this house for many years to come."