Cozy Living Room Ideas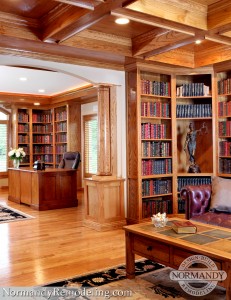 "The cozy room is a reflection of your own personality defined by your personal touches," says Normandy Designer Stephanie Bryant, CKD.   The first place to begin is to filter out the unwanted items and select pieces that express your personality. A mixture of textures, which is a combination of paint colors, wallpaper, furniture, accessories, and architectural elements, adds the layering necessary to create the details that create a cozy space.
Shaping the space with architectural details such as wainscot paneling, trim moldings, columns or coffered ceilings makes the space feel intimate and defines it even further. These added elements can also create visual interest and barriers that make the room feel warm and welcoming.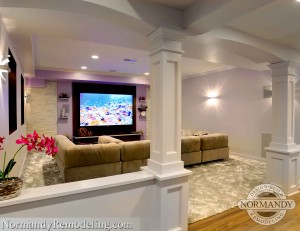 Lighting is an important element that many homeowners can overlook.  The layering of different types of lighting, such as chandeliers, sconces, recessed can lighting, table lamps, and candles will create ambiance. Highlighting accent walls or wall niche shelves with soft lighting can also add ambiance to the space or incorporate a fireplace to enhance the look and feel of the cozy living area. "By incorporating a fireplace, not only will you enhance the room but will provide a focal point as well," added Stephanie. "If a fireplace is not within your budget, purchasing a fireplace surround from a salvage company and leaning it against the wall is another way to create visual appeal and warmth to the room." A comfy chair, sofa, or soft area rugs can also pull a room together and add additional textures and comfort to the space.