The Evolution of Kitchen Cabinetry Solutions
In today's kitchens, homeowners are interested in incorporating features that add convenience and ease to their lifestyles.  With cabinetry selections, you are provided with a variety of solutions for making life in the kitchen much more enjoyable and creating a space where everyday items are readily available. "With cabinetry, homeowners have the flexibility to create a kitchen that works for them," says Normandy Designer Leslie Molloy, CKD. "Not only are there improved ways to keep the kitchen more organized, but you are also able to completely maximize the potential of storage space as well." Standard cabinetry has come a long way with improved design concepts. Pull-out shelves and drawers are able to bring kitchen necessities directly to the homeowner with accessibility now more easily than ever. The following cabinetry solutions are just a few ways to take full advantage of the space and organization within your kitchen:
BLIND CABINET SOLUTIONS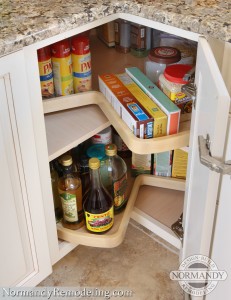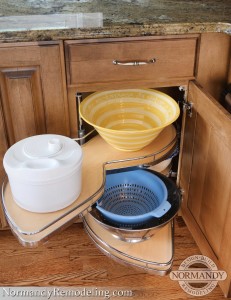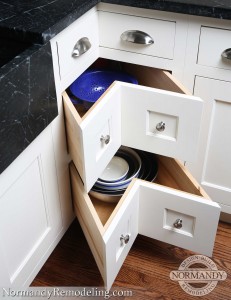 Lazy Susan– "The Lazy Susan concept has come a long way in the past few years," added Leslie. "Rather than acting as one unit, both shelves can now turn independently." The top turntable is also reinforced with a supporting shelf to add stability and because there is no longer a central role in the design, you can fit larger household and kitchen items on the shelves as well.
Hidden Corner Shelves: An alternative to the Lazy Susan, these shelves pivot outward in order to make items readily available to homeowners, while utilizing an otherwise wasted space. This can be especially useful for homeowners who are aging in place, in order to avoid excessive bending or reaching into under-counter cabinetry.
Corner Cabinet Drawers- These kitchen drawers provide the homeowner with a flexible and organized solution for cabinetry storage. "The drawers remain flush with the surrounding cabinetry design, and again bring items to the homeowner, rather than searching for them in the back corners of the cabinet," says Leslie.
KITCHEN DIVIDERS
Spice Rack Organizer– Spice rack drawers keep items easily accessible and readable due to the angled inserts within. Additionally, narrow shelving and pull-outs take advantage of tight spaces within the kitchen and let homeowners reach for their favorite seasonings with ease.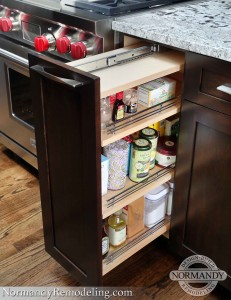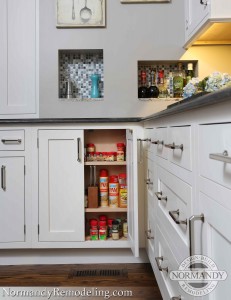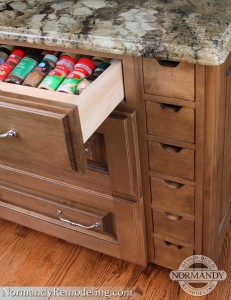 Cutlery drawer dividers– These inserts help separate kitchen tableware and keep the drawer organized, making utensils effortlessly reachable.
Dish Drawer Organizer- This solution keeps dishes secure so they don't slide around when opening and closing the drawers. Drawer pegs further assist in keeping dishes, pots, pans, Tupperware and lids organized and separated.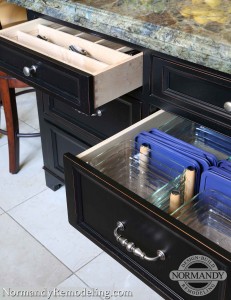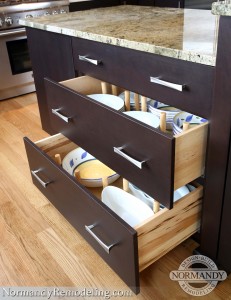 Overall, the kitchen is a space that is designed to fit the needs and wants of the homeowner.  The combinations of kitchen cabinetry options increase the flexibility and functionality of the kitchen, and now more than ever, homeowners are able to fully utilize otherwise wasted space and conveniently have items at their fingertips.