Enhancing Shower Niches with Decorative Tile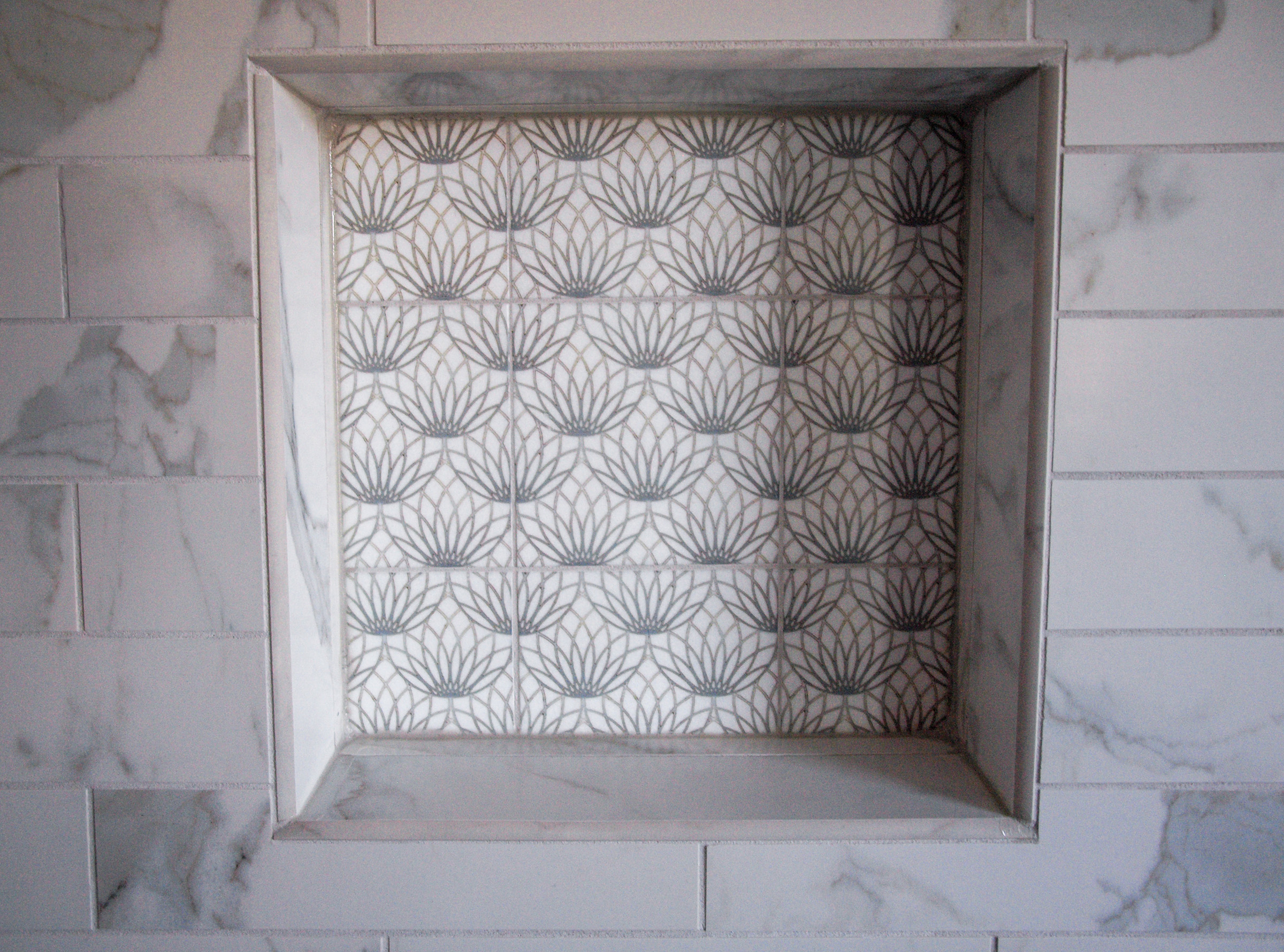 A shower niche may be small, but it can play a mighty role in your bathroom. In fact, this fundamental alcove has the potential for so much more than just storing shampoo. It can also provide your shower with a beautiful focal point. Here are some insights from Normandy Designer Ashley Noethe on why and how to execute this bathroom design idea.
First and foremost, the shower niche plays an important role in keeping your shower organized and clutter-free. "Everyone has shampoo, soap and toiletries they use in the shower, and the niche provides a permanent home for these items," says Ashley. "And since the niche is recessed into the wall, it doesn't take up any additional space or crowd your showering experience."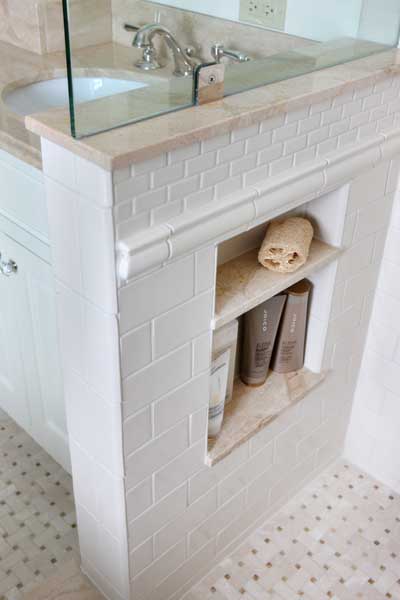 Your shower niche can be located out of sight, or be used as a focal point in the shower. "Using a decorative or accent tile in your shower niche can break up the visual of a large, expansive shower wall," said Ashley. "It also allows you to use something special that might otherwise be out of your budget range if you used it for the entire shower."
"Because it is added in a controlled, smaller area, the niche becomes an extra special detail and a focal point to the shower," added Ashley.  "If you're choosing to use the niche as a visual element in the shower, then you may want to choose an eye-catching tile, or something that will stand out from the rest of the shower wall."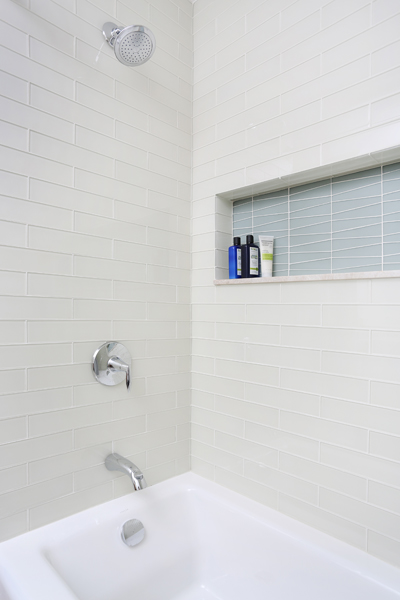 "Despite the recommendation to choose a striking tile, it still needs to fit with the rest of the space," said Ashley. "Look to other areas in your bathroom, like your vanity or fixtures, for color inspiration. You can even coordinate with soft goods like towels, art on the wall or other decorative accents." Another important tile tip is to select the right tile size.
"Because shower niches are a smaller space, I recommend choosing a smaller tile than you've selected for the rest the shower wall," said Ashley. "Small mosaics tend to be more expensive than field tiles, so cost is more manageable when using them for a smaller space such as a shower niche. Additionally, because the space isn't very large, it doesn't look too busy."
"This doesn't mean you can't use a large field tile in your shower niche," noted Ashley. "There are plenty of larger tiles that have a striking pattern or show movement in the stone that make for excellent selections in the niche."
Check out the Normandy Remodeling bathroom photo gallery for bathroom design ideas, including tiles in shower niches. Or, follow Normandy Remodeling on Facebook, Twitter and Instagram for more ideas and inspiration. You can also set up an appointment with Ashley to start working on your bathroom remodel.