Downers Grove Kitchen Remodel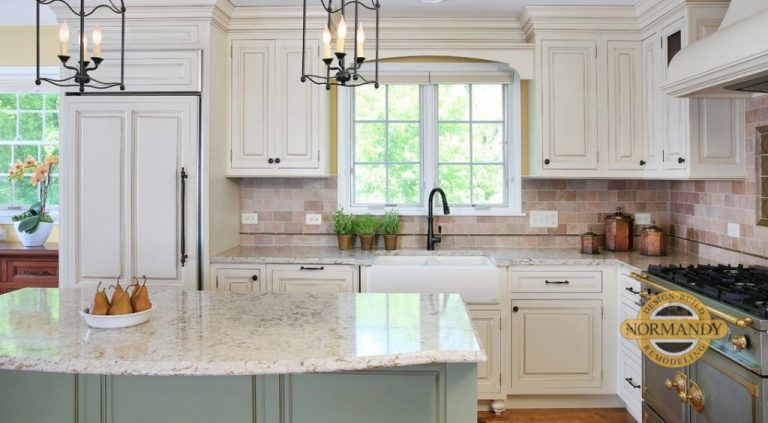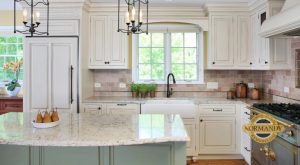 Just about anything can be the inspiration behind a beautiful kitchen. In the case of this Downers Grove kitchen remodel, it was an important family heirloom – copper canisters.  These beautiful canisters led Normandy Designer Ann Stockard to come up with a traditional kitchen design that possesses a variety of metal finishes, unique display cabinets, and an overall warm and cozy feel.
"The copper canisters really inspired a mix of beautiful metal finishes," said Ann. "This includes oil rubbed bronze hardware and light fixtures, a decorative copper backsplash, and a range that is comprised of stainless steel and polished brass."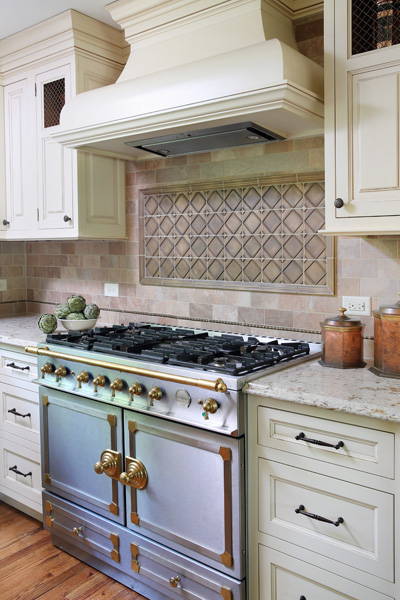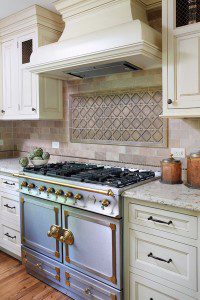 "Additionally, the antique canisters are proudly displayed inside the upper cabinetry that flanks the range hood," noted Ann. "And those cabinets have their own antique brass wire mesh, which adds yet another finish."
In addition to mixing metal finishes, this kitchen is also comprised of a variety of cabinetry finishes. The perimeter is an eggshell, while the island is sage green. Both have a brown glaze with a matte sheen, which highlights architectural details such as the feet below the sink and a curved, custom range hood. Additionally, the buffet has a brandy finish with a black glaze, which nicely emphasizes its ornate pilasters.
To continue to keep the space feeling interesting and inviting, the design also features quartz countertops from Cambria.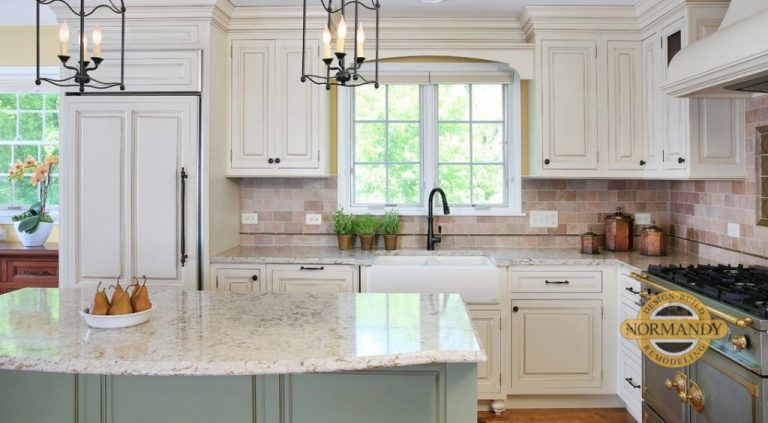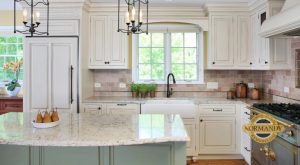 "Quartz is a man-made countertop that has a small mix of pigment and resins along with the stone. The result is an extremely durable surface that has the look and feel of granite," said Ann. "In the case of this countertop, it really lent itself to the design because there are flecks of copper within the pattern. This offers plenty of movement."
"The backsplash is porcelain, which is also extremely durable and easy to maintain while offering the look of a natural stone," added Ann.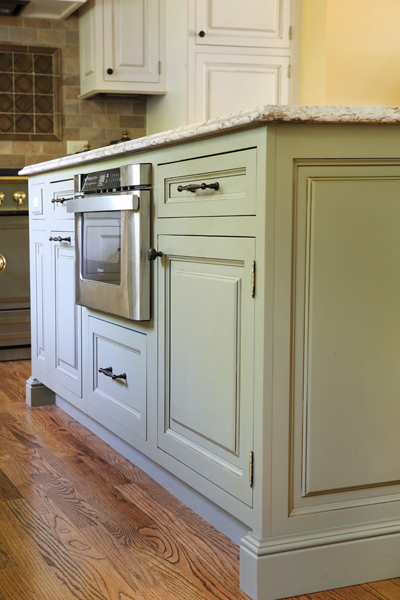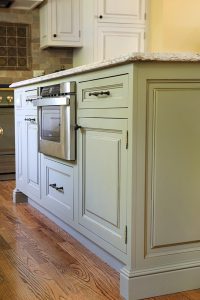 A few other noteworthy features within the kitchen are the microwave in the island, which allowed for more wall cabinets to store dishes. The apron front sink also brought a vintage feel to the space.  As mentioned above, the mixed metal range and custom hood are also unique and beautiful focal points.
In addition to this kitchen renovation, the wall between the dining room and kitchen was expanded. This gave the space a more open and airy feel and made the kitchen more accessible while entertaining.
"In order to expand this opening we really had to get creative with the HVAC supplies that we're feeding to the second story," said Ann. "However, once relocated, it made a big difference within the space."
Did this story inspire you to get started on your own kitchen remodel? Schedule an appointment with Ann to create a beautiful and personalized space. Or, register to attend our upcoming kitchen seminar to learn more about the remodeling process. You can also follow Normandy Remodeling on Facebook, Twitter, and Instagram for more design ideas and inspiration.