Kitchen Design Ideas: Refrigerator Armoires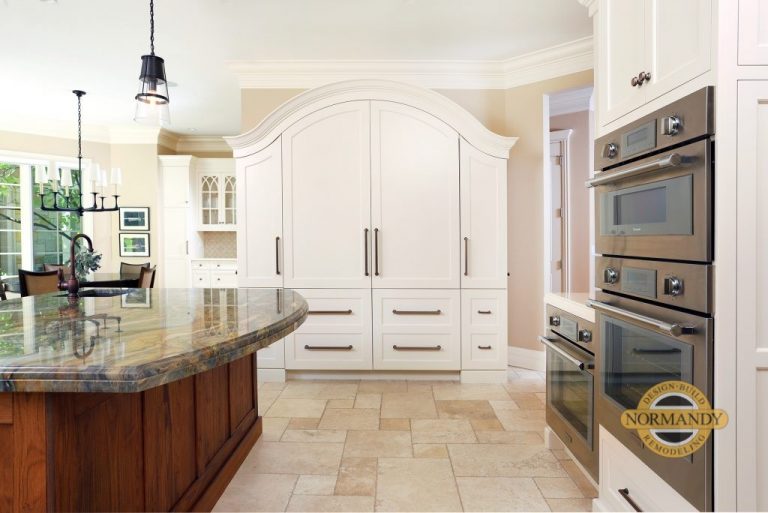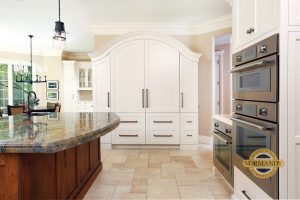 Refrigerator armoires are used to help disguise your refrigerator and freezer as a piece of furniture and can be customized with panels to match the aesthetic of your kitchen. However, there are a few fundamentals to consider before including one in your kitchen remodel. Here are some insights from Normandy Designers that should help wrap your arms around refrigerator armoires…
Size Matters – When selecting a refrigerator, it is important to note depth. The reason being is that a cabinet depth refrigerator will properly line up and blend with the rest of your cabinetry.
You can use a standard-depth refrigerator to create an armoire, however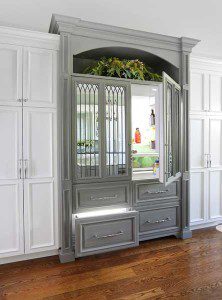 it is not ideal. A standard-sized refrigerator has an increased depth. This increased depth, plus the building of the armoire surrounding the refrigerator, means that the end result will be a lot bulkier.
Many refrigerator brands offer select models that are great for an armoire. One company that has a really large selection, and panels well, is Sub-Zero.
Symmetry is Essential– Because armoires are meant to look like a built-in piece of furniture, it is important that they have aesthetic features that an actual armoire would include. Additionally, the size of the refrigerator drawers should be perfectly symmetrical.
Armoires look great if they have some drawers. This breaks up the panels and ensures that the end result isn't one massive door. After all, the end goal is for this to look more like furniture and less like a fridge.
To achieve symmetry, armoires are most commonly done with a separate refrigerator and freezer. If you do not use two separate units, sometimes it can still look like a refrigerator is behind the panels.
Make it Yours – Refrigerator armoires are usually a more traditional application due to the fact that they are made to look like furniture and the overall concept of furniture in the kitchen is generally a traditional idea. However, you can work with your designer to create a more contemporary style as well.  All in all, an armoire can make a great focal point in your kitchen and use different materials, colors, stains that add to your kitchen's overall aesthetic.
Are you interested in learning more about kitchen remodels and adding more appeal with a refrigerator armoire? You can learn more by registering to attend our upcoming kitchen remodeling seminar. Additionally, for more information on kitchen design, you can follow Normandy on Facebook and Twitter or visit our photo gallery.