A Kitchen Ledge With A Stylish Countertop Edge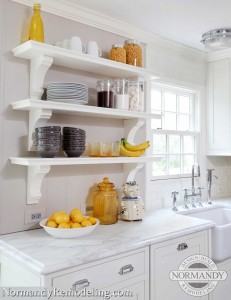 When selecting kitchen countertop treatments, it is important to remember that each style of kitchen has its own unique components, which help them stand apart from other styles.  "The kitchen countertop edge can add the smallest of detail, but still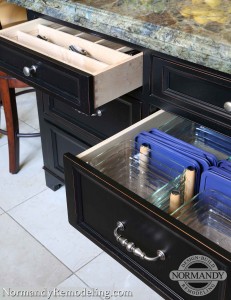 create such a strong impact on the overall look and feel of your kitchen," says Normandy Designer Laura Barber, AKBD.  "After you have determined the style you wish to achieve in your kitchen, these countertop details can make all of the difference in helping you reach your goal." Here is a list of kitchen styles and examples of which countertop edges would help enhance the style you wish to achieve in your kitchen.
Traditional:  Popular for their eye-catching accents, traditional kitchens are famous for their architectural details, decorative elements, and cabinetry adornments.  "In traditional kitchens, more ornamental countertop edges are commonly seen," added Laura. "After selecting your cabinetry, you can use the details found in the door styles and trim to influence what countertop edge would work best for your kitchen."  Countertops in traditional kitchens are commonly seen with some variation of an Ogee edge treatment, due to their decorative curved details.
Transitional: Incorporating the gentle curves of traditional and the clean lines of contemporary, transitional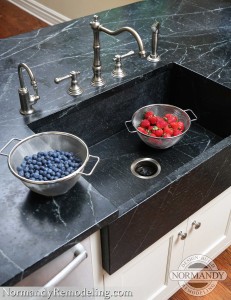 is the balanced combination of the two.  With only hints of ornamentation, any countertop edge in a transitional kitchen that is too elaborate will have you shifting from transitional back to traditional.  Maintaining that balance between traditional and contemporary in this style means that a cabinet door with more detail will need a countertop edge that is simpler and less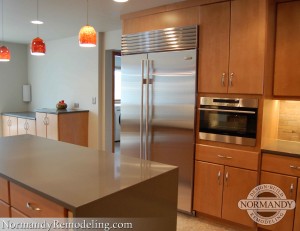 detailed. The reverse also holds true in that a Shaker-style cabinet door can pair nicely with curves or soft lines of more traditional countertop edge treatments without the overall look of the kitchen becoming overly ornate.
Contemporary or Modern: These two styles of kitchens can share many similar elements, including sleek lines, cutting-edge appliances, and frameless cabinetry. Modern, however, focuses more on the lack of ornamentation and a strong horizontal grid system, while contemporary uses a mix of materials, shapes, and scale.  "Since contemporary and modern kitchens focus on clean lines, I suggest a waterfall, mitered, or eased countertop edge detail in these
styles of kitchen," added Laura. "Continuing with the sleek look and lack of embellishment in a modern kitchen, countertop materials are usually solid in color to enhance the shape and hard lines of the structure."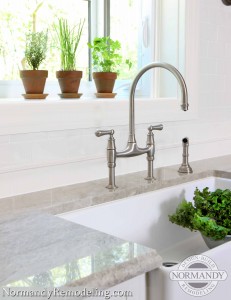 Not all countertop options have a broad range of choices to consider for the edge treatment.  Different materials and manufacturers have different options since the various materials perform differently.  Some materials, such as certain marbles, are too fragile for a mitered edge and may be prone to chipping.  Not every profile is right for every surface, so it's wise to consult with experts in the materials that you are considering before falling in love with a particular look for your countertop edge.