A Truly Tailored Kitchen and Master Bath Remodel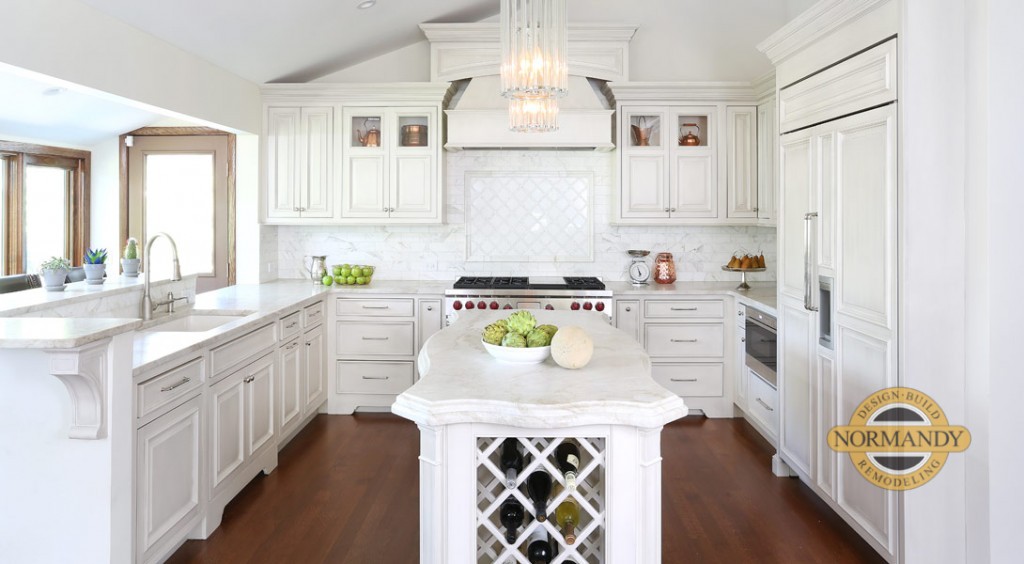 A kitchen remodel should be the right fit for you, your family, and your home. From the style to the appliances, lighting, and floor plan, there is no such thing as a cookie-cutter solution. In the case of this Oakbrook home, when it was time to remodel the kitchen and master bathroom, Normandy Designer Ann Stockard was brought in to tailor each space to the family's needs.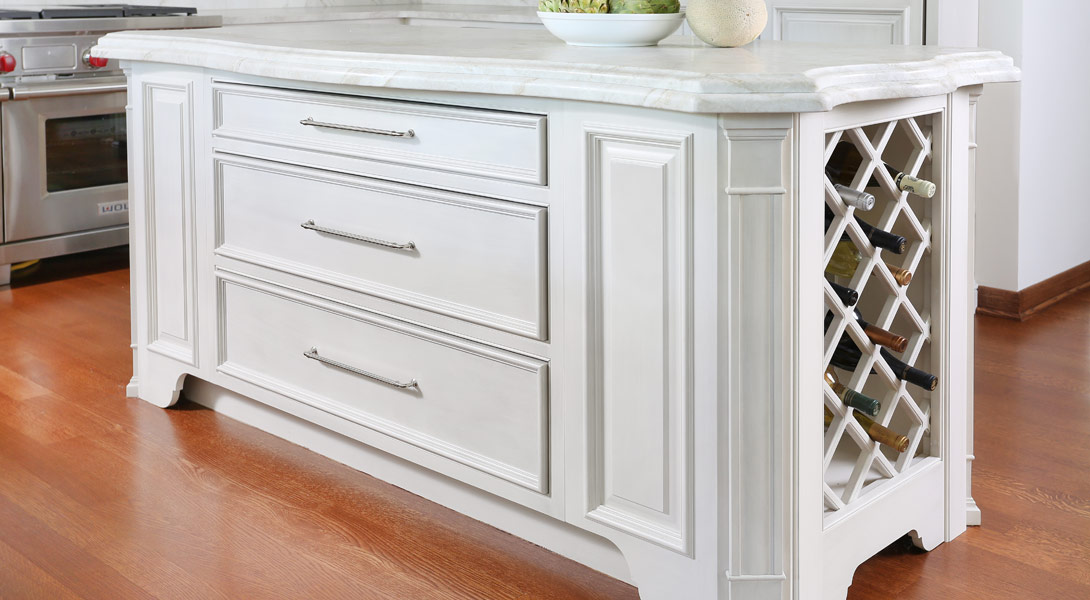 Starting with the kitchen, a functional floor plan was critical. Before the renovation, the kitchen layout had a peninsula, which did not work because it limited the amount of usable prep space.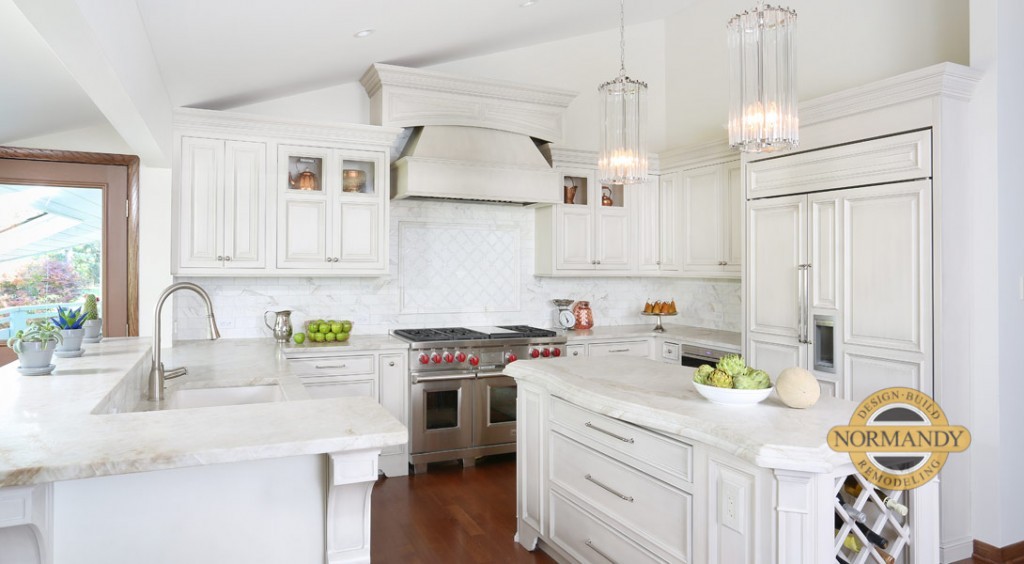 "If you cook and entertain a lot, as this homeowner did, the layout is important," said Ann. "We explored several different design options before landing on a U-shaped layout with a large island completely devoted to food preparation."
"The flow of the space was also designed to allow others to walk around the kitchen, even if someone is already working at the island."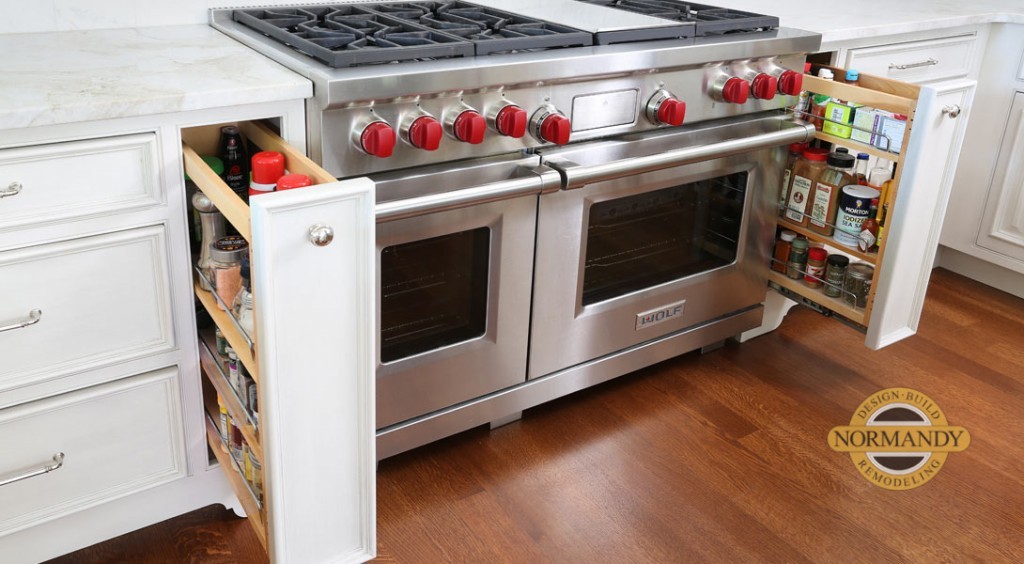 In addition to the island, a big, dramatic range with a range hood was also incorporated, improving the kitchen's cooking experience and overall design. However, with an angled cathedral ceiling, it was important that the range nicely fit and balance within the space. Therefore valance and cabinetry at staggered heights were incorporated.
Overall, the aesthetic of the space is very traditional, with a blend of warm and cool whites. Elements that further the design include pilasters, toe kicks, and raised panel cabinetry. The island shape is also very traditional and has a double ogee edge, which adds elegance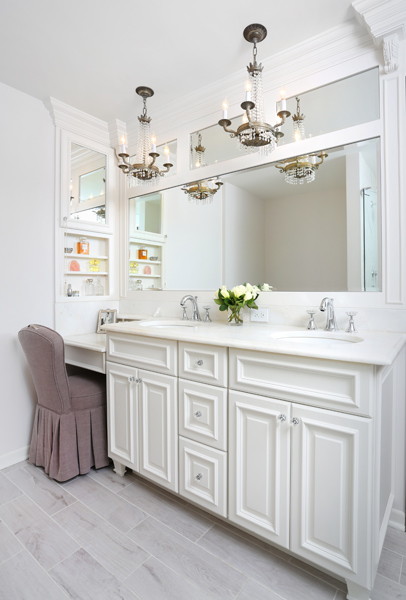 and drama. A Calcutta marble backsplash and Taj Mahal quartzite countertops also give an updated and upscale look.
"True to a truly customized kitchen, we also incorporated elements that were personalized and practical for the homeowner," added Ann. "In this case, custom spice racks designed to fit specific oils and spices greatly improved the cooking experience."
While the kitchen was completely updated, the bathroom remodel pays homage to the 1970s style of the home. Therefore, the original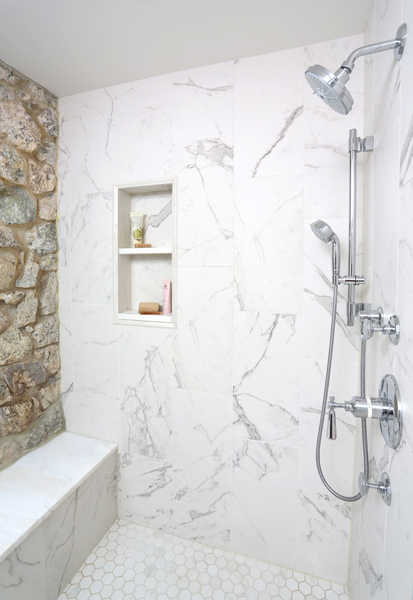 stone in the shower was maintained. New updates include vanity seating, quartzite countertops, chandeliers, and Swarovski crystal faucets from Grohe.  Storage was also added near the vanity to store makeup, perfumes, and jewelry.
Set up a time to meet with Ann to start customizing your new kitchen or master bathroom design. Or, follow Normandy Remodeling on Facebook, Twitter, and Instagram for more design ideas and inspiration. You can also find photos of this remodel and others in the Normandy photo gallery.