The Remodel is Really Cookin'!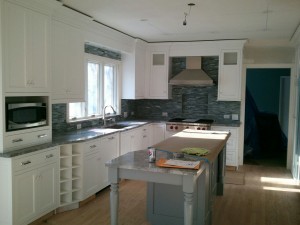 The appliances are in, meaning the end is in sight for this beautiful kitchen remodel.  The Abt appliances selected by Normandy Designer Leslie Lee finally make the space feel like a kitchen, and she can't wait to get started cooking and entertaining guests – and this kitchen is perfect for both!  To catch up on the remodel, start with the first blog by clicking here.
"Wow – it's almost ready to go. Abt came to install the appliances, and they look so cool. I think the hood is my favorite part. It has built-in halogen lights that shine down on the cooking surface and four different fan speeds. Appliances always look so great in the appliance store, but even better in your own home. I can't want to start cooking.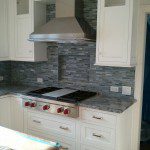 The faucet is in now, and there was enough leftover tile to install over the window. I love how that turned out. There is very little exposed wall left over to paint in the kitchen, which is kind of nice.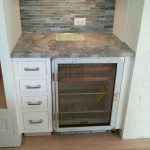 Window treatments are something we need to start thinking about. The sun is pretty bright coming through the kitchen windows. I have looked at a few solar shade-type options. It's a bit of a contemporary look, which I think will go well with the overall feel of the kitchen, family room, and eating area."