Normandy Wilmette Kitchen Featured on "Designer Kitchens of the North Shore" Kitchen Tour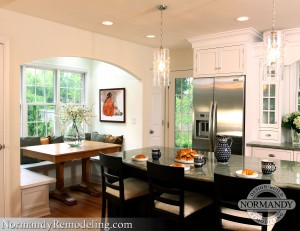 Normandy Remodeling will be sponsoring the "Designer Kitchens of the North Shore" kitchen tour of 2012, held by the Junior League of Evanston – North Shore.  The money raised from this event will fund future projects and programs of the organization such as scholarships and the "Job Readiness" program.  "The Junior League of Evanston – North Shore does a significant number of meaningful projects for the community, and it made sense for us to sponsor such a respected organization," said co-owner of Normandy, Andy Wells.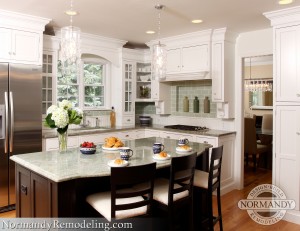 One of Normandy's award-winning kitchens was also selected as one of the seven kitchens to be featured on the tour.  From the smart storage in the crisp white cabinetry to the subtle, organic accent color, this kitchen has a truly timeless appeal.  The owners' main goals when remodeling their 1968 Colonial were to open the kitchen to the family room so it didn't feel so isolated and to accommodate a large eating area.  "They wanted to create a 'living kitchen' that would function as the central gathering space for the family," said Normandy Designer, Vince Weber.  The existing kitchen was bumped out 10' to make room for a cozy banquette to satisfy the need for an eating area.  The dark stained island was designed to look like a furniture piece and helps to connect the kitchen to the adjoining family room.
To read more about the details of this beautiful kitchen, click here.  If you would like to learn more about the event or purchase tickets, click here.