Modern Master Bathroom Makeover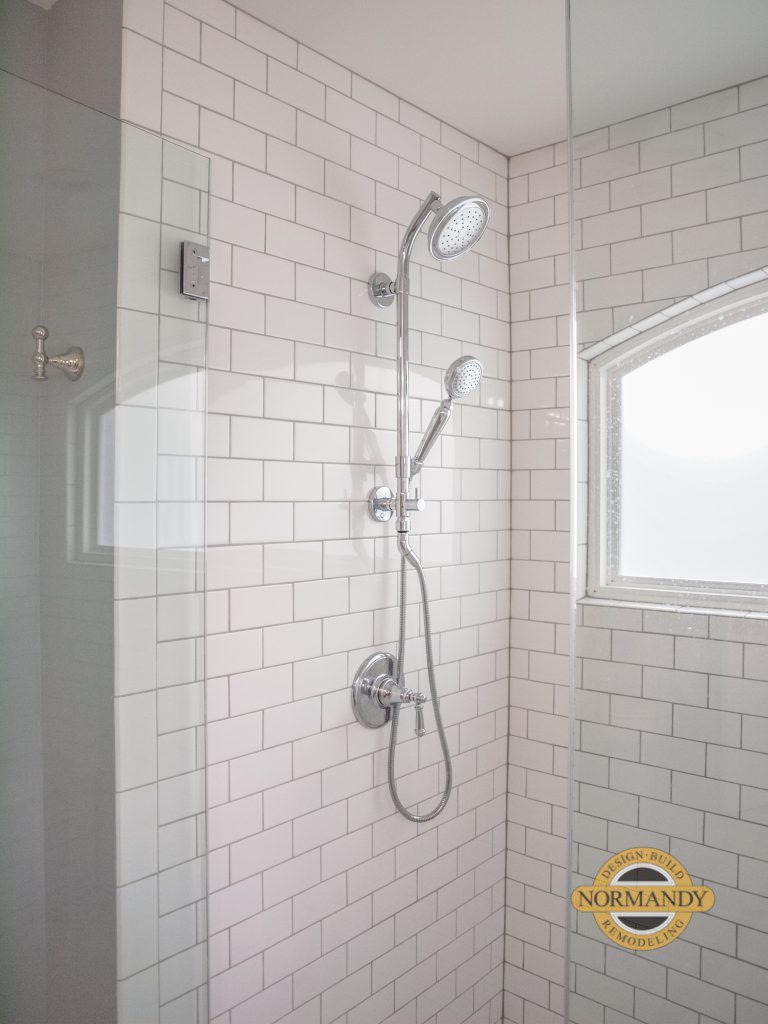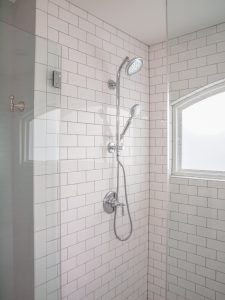 This busy family of 5 was ready to create a modern master bathroom that would be luxurious and low maintenance. They were tired of their outdated bathroom that had an awkward layout and did not suit their active lifestyle. Since they had worked with Normandy Designer Brooke Voris on a previous project, they knew just who to contact.
"While the overall space is large, it's long and narrow, and the 'never used' whirlpool tub takes up too much prime space," said Brooke. "Storage was lacking and the décor was drab and monochromatic."
Making the most of the space and finding the right layout was the first priority. Removing the bathtub and re-allocating the space made the most sense. "We were able to take advantage of the space once dedicated to the tub and install a large luxurious walk in shower with a bench," noted Brooke.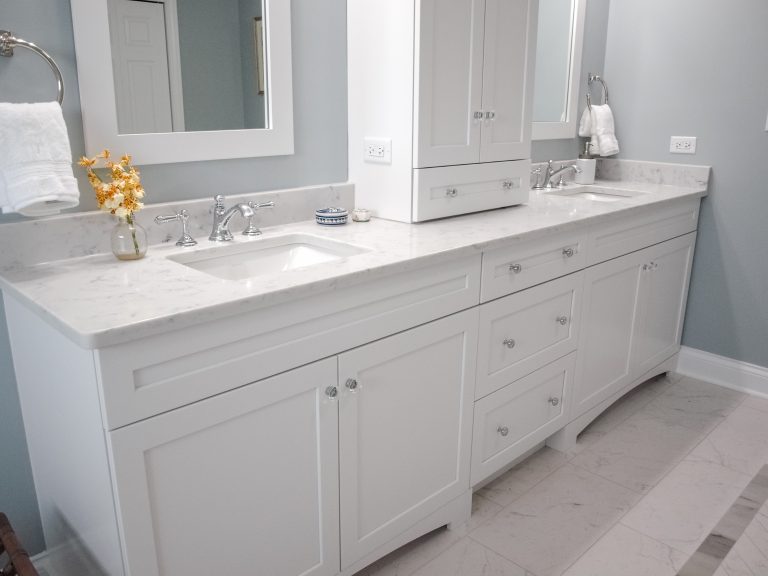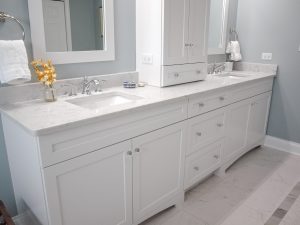 Relocating the shower allowed for a sizeable linen closet to provide much needed storage. The linen closet also houses a hamper for sorting the family's laundry, which was a priority. The entrance to the bathroom was moved over a foot so the door would not get in the way of the toilet. The double sink vanity was reconfigured from an awkward L shape to a streamlined design along a single wall.
Once the new layout was reconfigured, the design details and finishes were selected. "Timeless and vintage was important," said Brooke.  "But practical, low maintenance materials that were budget friendly were a must." The custom cabinetry selected was a flat panel door in a soft white painted finish. The countertops are white marble-look quartz which compliments the porcelain tile floors. The shower was finished with white subway tile to complete the sleek look.
The style and function of this master bathroom was exactly what this family was hoping for and they will be able to enjoy it for years to come. Set up a time to meet with designer Brooke Voris to discuss the possibilities for your bathroom remodel. Or, register to attend an upcoming workshop to learn about the latest and greatest bathroom trends that fit your needs. You can also follow Normandy Remodeling on Facebook, Twitter and Instagram or check out the Normandy photo gallery for more design ideas and inspiration.