Designer Adds Her Personal "Touch" to First Floor Powder Room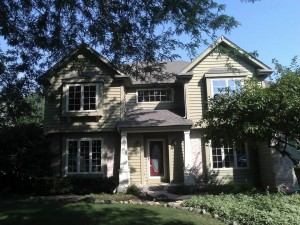 Normandy Designer Leslie Molloy, CKD, and her husband were first attracted to their home because of the surroundings.  Large trees border the creek and pond in the backyard of the home, giving a sense of distance and serenity.  "The neighborhood was perfect for families and really had the small-town feel we were looking for," says Leslie, "We knew our family would be able to quickly settle in as well."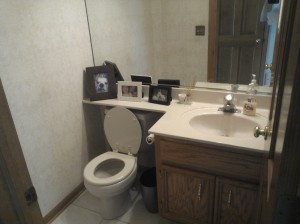 Like many homeowners, they were anxious to make the new home their own.  Being a designer, Leslie knew it would take time to complete, so they prioritized their projects.  They conquered curb appeal first – adding new windows, columns, and landscaping to the exterior of the home, then moved on to painting existing walls, railings, and doors- giving the home a new look and feel.  By removing old tile and carpet flooring, they were able to start completely fresh.
Feeling accomplished with the progress they had made, there was still one room of the house that was always in the back of Leslie's mind, it was just a matter of getting started. After attending a new product training session with the KOHLER representative at the Normandy Remodeling showroom here in Hinsdale, she took it as a sign.  It was time to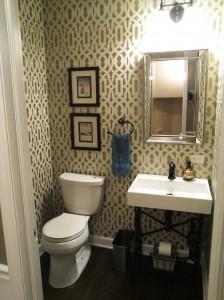 complete the first-floor powder room.  "When the KOHLER representative first presented the new touchless toilet, I knew then and there, that I had to have it," noted Leslie. "It was the inspiration I needed to finally start and finish my first-floor powder room."
The KOHLER Touchless technology was just the beginning of this powder room renovation.  Leslie was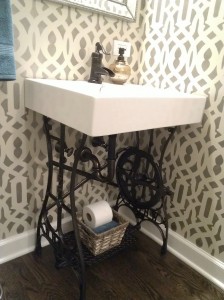 going for an industrial-chic look and one of the key elements was a repurposed sink base that originated from the legs of an antique sewing table.  The sewing table was painted oil-rubbed bronze and accompanied by a rustic spout faucet.  The Italian vessel sink that was mounted atop the iron base of the sewing table was the perfect complement to the white, clean lines of her new KOHLER toilet.
Continuing with her industrial theme, Leslie also added a unique pattern to the walls.  "Given the attention I have to small details, I wasn't sure I would be able to handle the stress of stenciling the wall, but I tried it anyway," says Leslie.  Leslie chose a metallic paint and pattern that truly brought the bathroom to the next level.  With the addition of a few small accessories, Leslie was able to tie the space together and achieve the look she was determined to create.