Powder Room Design Tips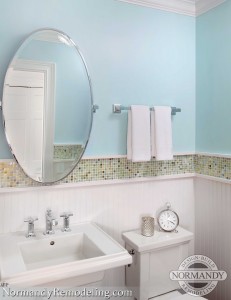 Just because the powder room might be one of the smallest rooms in your home, doesn't mean that it shouldn't have all the charm of the rest of the home.  "If you want to take a risk with really fun or whimsical designs or detailed tile work, the powder room is the place to do it," says our Normandy Design team.  "It's a small space, but is still reflective of your personality for when guests come over or when you use it.  It's also has fewer rules than a regular bathroom remodel; for instance, you can incorporate the hardwood flooring already in surrounding rooms because you're not getting out of the shower dripping water, which can warp the hardwood.
"Powder rooms really serve as an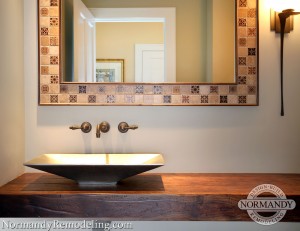 extension of the rooms around it, so I do recommend complementing the adjacent rooms, but there is room for flexibility," commented our designers.  "Let's say your home has a rustic aesthetic, it would be fun for the powder room to have an eclectic spin to it.  Decorating your powder room really shouldn't be about following the latest powder room trends, it should be about your personal style and tastes."
"A common concern with powder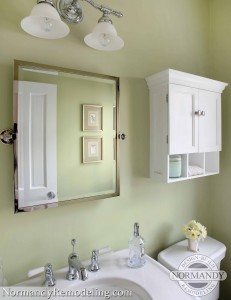 rooms, is how to incorporate more storage," says our team.  "Medicine cabinets are always great for small spaces, especially recessed medicine cabinets.  It might work best for your space to have a vanity top sink instead of a pedestal sink, which doesn't provide any storage.  You also might be able to build in storage, through a niche or something similar, which won't protrude into the powder room."
Another thing to keep in mind with powder rooms, is to keep them from being a stagnant room in the home.  Changing up the paint color, sconces, window treatments or cabinet hardware can have a fairly big impact on a space and can be done on a tighter budget.
If you are considering remodeling your powder room or contemplating more extensive changes to your home, you can set up a time with one of our designers to talk about the possibilities. You can also learn more about additions, kitchens or other remodeling projects at an upcoming workshop. Check out the photo gallery or follow Normandy Remodeling on Facebook and Instagram for even more home tips and inspiration.