Kitchen Statement Walls of Wonder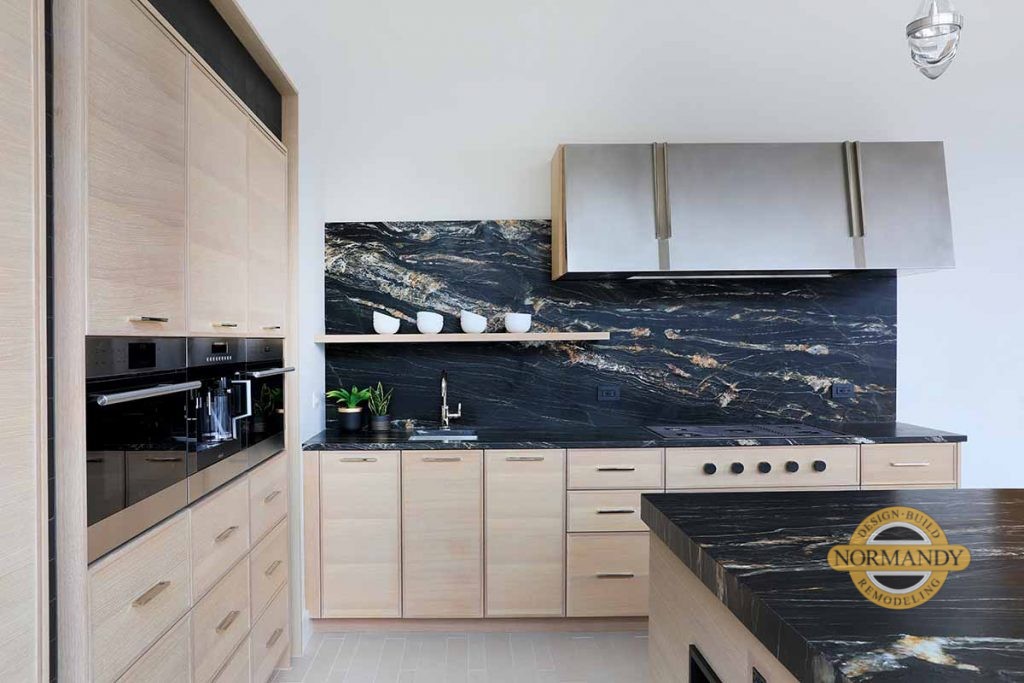 If you're looking to make a statement in the kitchen, look to the walls. Choosing something interesting that speaks to your sense of style is a wonderful way to create a kitchen in which you feel at home and enjoy spending time.
You may have feature walls in other rooms of the house. Perhaps you fell in love with wallpaper that was too much for the four walls of your family room but perfect for one. That same idea works beautifully in the kitchen where you can either highlight a phenomenal material or draw the eye to something special about the room.
"Natural materials like a special slab of stone can be a striking focal point for the kitchen," says Normandy Designer Liz Reifschneider. "Using a slab on the wall is a natural showstopper, and you can even dial up the drama by selecting a large range and hood."
If you don't find a stone that speaks to you loudly enough to go all in on a statement wall, consider using tile, which creates visual impact through the geometric pattern repeating. Uncover that original brick hiding under sheetrock.Exposed brick fits right into a rustic or industrial chic atmosphere.
Statement walls don't need to be interior walls. "Kitchen windows can be a focal point," Liz says, adding, "This is where I like to do glass front cabinets, which can be painted a different color on the inside for a pop of color." Liz says she often adds to the sparkle with sconces when accenting a window wall with glass front cabinets.
Whichever kitchen wall you choose to make the center of attention, you'll want to cut down on clutter to help it really stand out. "You need wall space to make this work, which might mean eliminating some wall cabinets," says Liz. "The best thing you can do is purge unnecessary kitchen items and trust in the idea that less is more. With fewer things to store, you can eliminate some wall cabinets and really open up your feature wall."
You might also wind up simplifying some of your other choices. "Think about pulling back on the ornateness of the cabinets so they don't compete with the beauty of the statement wall. Keep it balanced by keeping the cabinets simple."
Are you thinking of remodeling your kitchen? You can set up a time to talk to Liz about finding balance, feature walls or other ideas. We also host virtual webinars, which are a relaxed way to learn more about remodeling. The Normandy Remodeling photo galleries are filled with ideas and inspiration. If you're on social media, we post details of a variety of projects and behind the scenes insights into what makes them great on Instagram, Facebook and Pinterest.