Handsome Kitchen with Natural Elements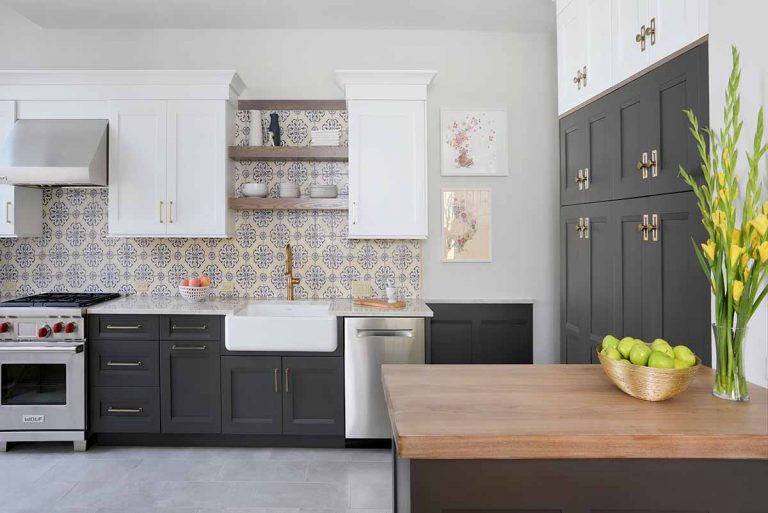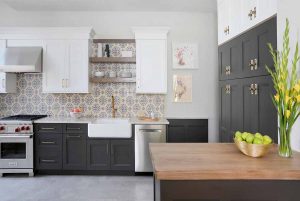 These city dwellers wanted a light and bright, up-to-date kitchen that functioned for their busy lifestyle. The current fixtures and finishes had become tired and their back entrance opened directly into the kitchen with no landing area for their daily items. In fact, their kitchen table was blocking their door, making it difficult to navigate. Since they loved Normandy Designer Chris Ebert's work on their master bathroom a few years back, they decided it was time to enlist his help again.
"The homeowner wanted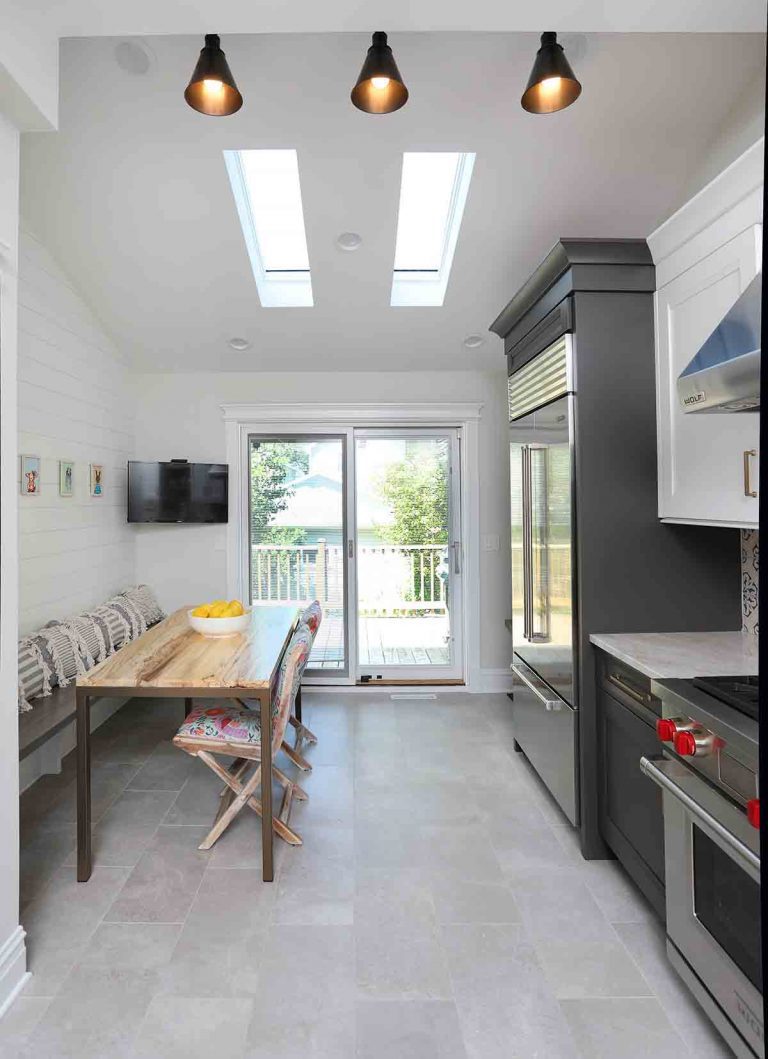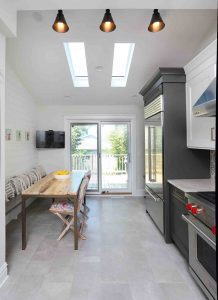 a 'wow' kitchen that was very bright and current with the times," said Chris. "We selected finishes that had rich tones and light colors and used skylights and lighting to make the space more interesting."
"Removing a wall between the work zone and eating area opened up the space and gave us a better layout to work with," added Chris. "The HVAC was housed in the wall and made it a little tricky to remove, but we moved the system and padded the structural beam to make it look natural."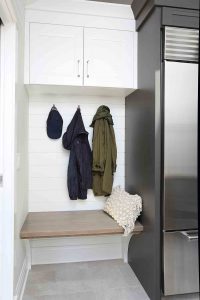 The operation of the back door was reversed to make way for a banquette, offering a comfortable spot to eat meals or catch up on their favorite shows. This change allowed enough room for the refrigerator and cooktop on the opposite wall and created bonus space for a small built-in mudroom just inside the sliding glass door.
Aesthetically, the kitchen has the classic on-trend look of a white kitchen with a modern twist using blue-gray tones as a starring role. The white oak and wainscot look cabinetry throughout elevates the space and adds sophistication. The gray cabinetry works well with the patterned backsplash tile and ties it all together.
"This space not only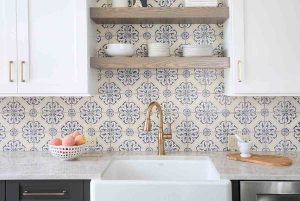 functioned as their kitchen but also as a back entry to their home, so it was important to create a well-planned space that worked for them," said Chris. "I'm glad I was able to give these homeowners both a beautiful and functional space that they will enjoy for years to come."
If you're thinking about updating your kitchen or contemplating more extensive changes to your home, you can set up a time with Chris to talk about the possibilities. You can also learn more about additions, kitchens or other remodeling projects at an upcoming workshop. Check out the photo gallery or follow Normandy Remodeling on Facebook and Instagram for even more home tips and inspiration.