Incorporating Seating into a Kitchen Island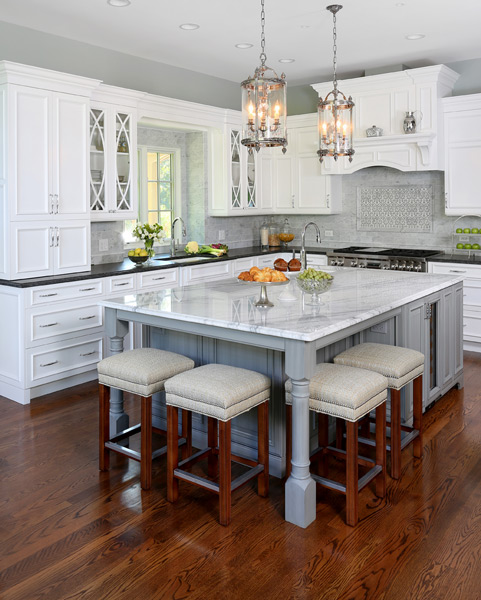 An island can not only add storage and prep space to your kitchen, but it can be provide additional seating too. However, before you go picking out your stools, it is important to think about how much seating is actually needed, what the ideal counter height is and where the seats will be located. Here are some insights from Normandy Designer Leslie Molloy, CKD, who is no stranger to setting up the perfect seating arrangement.
"Generally speaking, there are all sorts of orientations and things you can do to organize seating," said Leslie. "In ideal world, you would want to mirror the seating to the size of the family and have seats facing each other versus lining them up.
"This makes the island more inviting, like a table, versus having to turn to see the person sitting next to you," added Leslie.
An additional aspect to consider is where the seating is located. If it is near an area where people walk through often, like a mudroom, it is important to ensure there is extra space between the seating of the island and wall. This ensures that the walk-through doesn't get too snug. However, avoid including seating that lines up with or is across from appliances like refrigerators, dishwashers and ovens.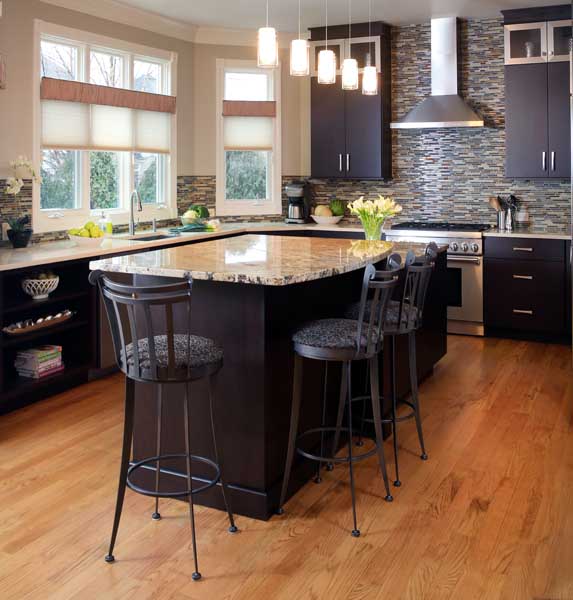 Counter height is also important.
"In general, there are three different heights to accommodate seating at an island," said Leslie. "Table height is 30 inches high, traditional counter height is 36 inches high and bar height is 42 inches high."
"If you are planning seating at the island for these different heights, in an ideal world it is smart to plan for more of an overhang," noted Leslie. Additionally, you'll need to accommodate for knee space. For example, for an island at countertop height, you'll need 18 inches underneath to sit comfortably. You'll also want to ensure there is two feet of width for elbow room."
The various heights also have different perks. Seating at countertop height ensures that the island can be used to set up food buffet style or that additional prep space can be utilized if needed. However, lower seating is more inviting to small children and the elderly, who may have difficulty getting up on a high stool.
Set up a time to meet with Leslie to discuss your kitchen remodel and what type of island and seating arrangement will best suite your needs. Or, register to attend an upcoming kitchen remodeling seminar to learn more about the remodeling process and design trends. You can also check out the Normandy photo gallery or follow Normandy Remodeling on Facebook, Twitter and Instagram for more design ideas and inspiration.