Countertop Selection Time
Take a journey through a kitchen remodel as it happens.  Normandy Designer Leslie Lee is renovating her personal kitchen and is sharing the renovation experience with us in real-time.  You can start at the beginning of Leslie's kitchen remodeling project by clicking here, or you can jump to her second, third, or fourth posts.
"A day I have been really looking forward to – selecting the countertop slabs.  I have my heart set on Super White, but I have a few alternates just in case.  It's amazing how natural stone colors change from year to year.
Well, the journey to find our slabs wasn't even really a journey.  We found what we were looking for at the first warehouse.  It's slightly darker than I had imagined, but I love it!  The blues are grays in the stone are so subtle and beautiful (exactly the feel I want for the whole kitchen).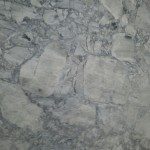 I can't really get a straight answer on whether Super White is considered a granite, quartzite, or marble – which makes me nervous a bit.  Carrara marble and Statuary White marble were also stone countertop options I considered, but putting marble in the main working area of a kitchen is a risk.  It can stain and scratch more easily than other materials.  I know with Super White, as with any natural stone, it will need to be sealed and maintained with care.  So everybody – don't be spillin' red wine on my new countertops – ok!"