Let there be light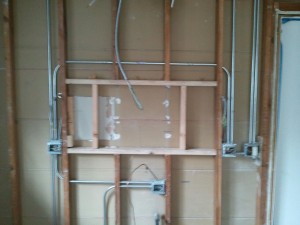 Normandy Designer Leslie Lee is sharing her journey as her very own kitchen undergoes renovation. The third installment of this series, you can click here to find the first and second posts to see Leslie's kitchen transformation from the beginning.
"It doesn't look like much right now – but I am so psyched they framed out the niche that will go behind the cooktop.  I can envision it already.  The drawing shows it nicely.  It will be the perfect place for my two favorite ingredients – olive oil and balsamic vinegar.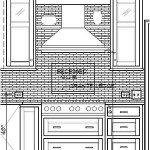 The can lights are going in – YEAH!  I went with 4″ cans (instead of 6″), as I think the light is a little softer with a smaller can. I have this awesome huge light fixture planned for over the island that puts off tons of light.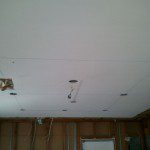 I can't wait to see what this looks like in place.  Between the cans, the fixtures, the under cabinet lights, and the decorative halogen puck lights – we've definitely got that department covered.  Everything will definitely be on a dimmer though. I love soft lighting.
Here's the light fixture for the island.  I saw it and instantly knew it was the one."
More progress on Leslie's kitchen remodel can be found by clicking here.