A Spirited Kitchen Refresh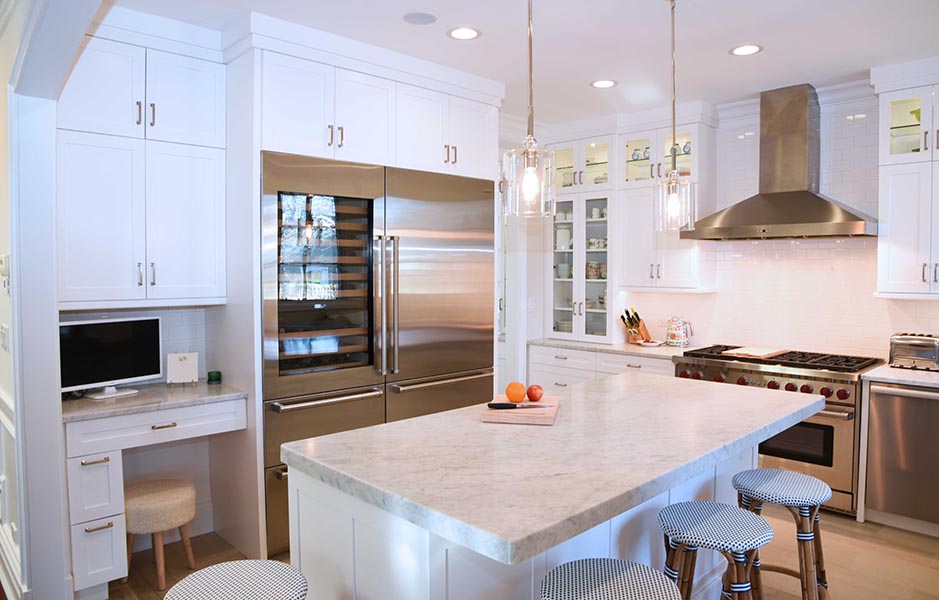 Sometimes a kitchen remodel means a radically new layout, moving a sink, or breaking down a wall into the dining room. Other times, the floorplan is already excellent, the family enjoys the flow of the space and it really does work. It just needs to be refreshed.
Normandy designer Amanda Heyland did exactly that for this Winnetka family, taking their kitchen from good to great with an eclectic mix that feels just right for living life beautifully.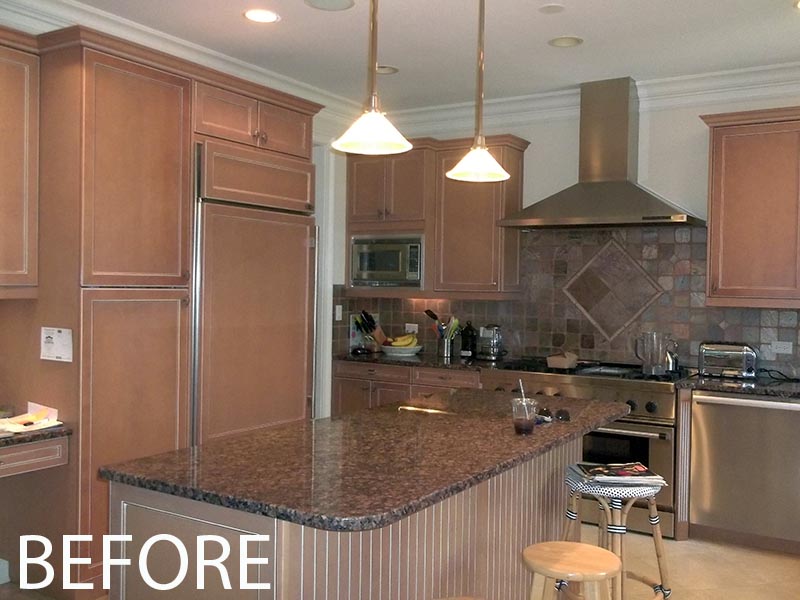 Natural stone countertops, sophisticated glass pendant lights and pretty, but substantial hardware all add to the welcoming feeling of this kitchen. Another appealing design choice is the mitered edge on the countertop.  Amanda says, "Gives it a presence without having to change the finish."
Storage is important for busy family life. Between the cabinets, pantry, and extra-wide refrigerator with plenty of wine room for wine, Amanda gave them all the nooks and crannies they need. The blend of glass-front and closed cabinets is perfect for showing off collections of pretty dishes while keeping other essentials hidden.
"Not all of the glass-front cabinets are lighted, which makes it a little less formal," Amanda explains. She adds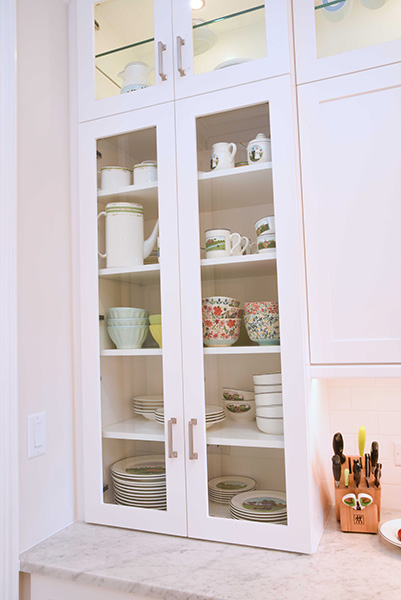 that the space is bright on its own and additional lights in every cabinet aren't necessary.
This is a testament to the efficiency of the original kitchen layout.
If you cross your kitchen too many times while cooking or if there's never enough counter space, you probably need to start from scratch with a new layout. If your kitchen feels dated and you'd like to update, but the functionality is there for your meal prep and entertaining needs, a pretty refresh and touches that enhance livability might be just right.
Not sure which is right for you? Schedule a time to talk to Amanda about a kitchen remodel. You're always welcome to join one of our upcoming virtual webinars to learn more. The Normandy Remodeling photo galleries are full of inspiration. Finally, our Facebook and Instagram are great for a daily dose of design.