A New Take on Universal Design for the Home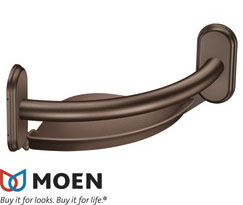 Typically homeowners shy away from universal design products and layouts because the first things that come to mind are ugly white grab bars and other generally unattractive solutions.  Luckily, we've got good news:  universal design has turned a corner and a stylish one at that.  "Universal design has evolved from products that looked like they belonged in an institution, to either looking like part of the design and layout or are so well integrated you don't even realize it's dual-functioning," says Normandy Designer Heather Dalskov.
"For instance, Moen has a soap dish that doubles as a grab bar, and with the finish choices you can find something that truly accents your bathroom," commented Heather.  "Keep in mind, the universal design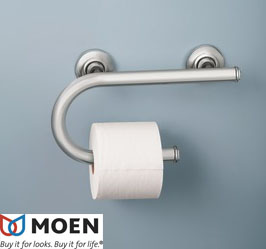 doesn't just have to be used by elderly people, and shouldn't be viewed that way.  If you suffer an injury at some point, have young children that could benefit from the extra stability, or even on days you just don't feel well – these are design elements that could be a tremendous asset to your daily life.  This paper dispenser that also serves as a grab bar would make a great accent in a modern style bathroom and is so helpful to young children and elderly people alike.  There's also hands-free faucets, fit for someone with special needs or someone who just finished preparing dinner and would rather not get the faucet contaminated."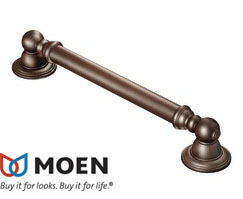 If you are someone that is thinking of doing a gut remodel, it's a good idea to think ahead.  "If you know you're going to want to be able to grow old in your own home instead of a nursing home, it's a great idea to customize your home now to fit needs you may have later in life," says Heather.  "Curbless showers, custom made cabinets to fit a wheelchair and things like that can be so elegant and attractive, while allowing you to stay in your home as long as possible.  Elements such as grab bars are even made to fit different styles and color palettes like the one shown; it's a great fit in a traditional bathroom."
If you'd like Heather to come to take a look at your upcoming Chicagoland home remodeling project and discuss the possibilities it holds now and down the road, schedule an appointment with her today!