Evanston Kitchen Remodel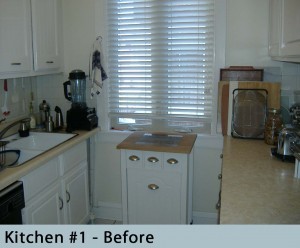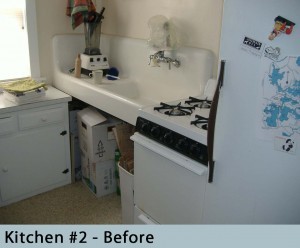 For Marc and Judy, living in a vintage 1920′s home certainly has its charms, but sometimes a home's storied past can leave you with some unusual challenges.  This particular home in Evanston was subdivided into multiple residences at one time, and although the house had returned to being a single family home, one of the more obvious remnants of the apartments was two separate, and very tiny, kitchens.
Marc and Judy love spending time together in the kitchen and their cramped galley kitchen didn't provide enough room for both of them at the same time. They decided it was time for a change, and began working with Normandy Design Manager Troy Pavelka to create a kitchen that would not only be spacious enough for two, but would have the clean lines and modern aesthetic that was more their style.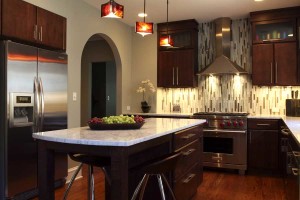 To get the kitchen they desired, Troy created a layout that not only merged the two smaller kitchens, but made some additional adjustments to the floorplan of the main level. These changes improved the flow throughout the house, opened up the kitchen to the adjoining dining room, and cre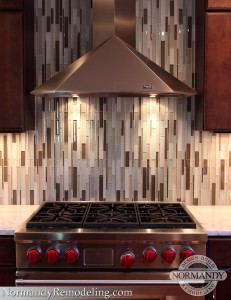 ated a mudroom for everyday entry into the house.
They selected a dark stained cherry finish for their cabinets with a slab front to create clean lines and an uncluttered look.  Marc and Judy splurged on the glass tile backsplash that really makes a statement as it goes from the countertop to the ceiling behind the range hood.  The Quartzite countertop on the island brightens the room and adds contrast to the space.  And finally, the stylized handles on the cabinetry gives the kitchen the right amount of personality without becoming overwhelming.
If you are ready to tackle your outdated kitchen, schedule an appointment to meet with one of our talented designers.  We also offer regular kitchen remodeling seminars if you need a little more information before taking the plunge.  Or if you're just in the mood to find inspiration, you can visit our kitchen remodeling photo galleries.