Deer Park Kitchen Remodel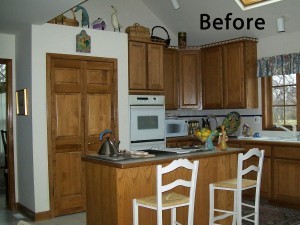 Debbie loves to cook and spend time in the kitchen, and recently came to the conclusion that her tired old kitchen was in need of an update.  The kitchen's layout was not making the best use of her space, and the oak cabinets were showing their age.  Recently retired, this active globe-trotter had collected a much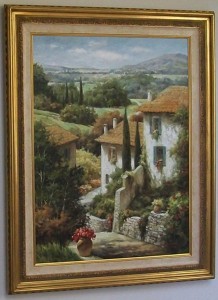 beloved painting of a Tuscan village on her travels, and she was looking for a new kitchen that made her feel like she was preparing her meals looking out onto this Tuscan village.
Debbie began working with Normandy Remodeling Designer Kathryn O'Donovan to transport her Deer Park kitchen deep into the Tuscan countryside.  They tackled the kitchen's layout first and foremost, keeping in mind Debbie's desire for a rustic Italian inspired look.  Kathryn removed a pantry closet, moved the cooking surface from the island, and re-purposed a rarely-used desk area.
These changes allowed Debbie to retain seating for two at her island, and with its versatility enhanced now that the cooktop was removed; it serves as a place for meal prep, enjoying meals, or for entertaining.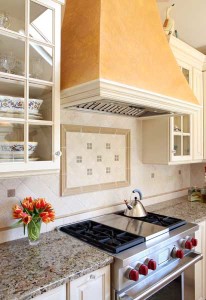 The range and custom built hood became a striking focal point of the new kitchen, and the frequently neglected desk area was transformed into a beverage center, complete with a wine cooler.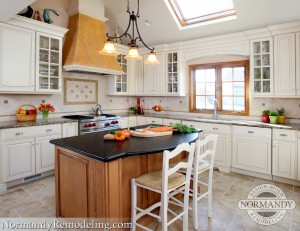 Aesthetically, the kitchen is a study in textures and contrasts, which brings out the Tuscan sensibility in the room.  "Debbie wanted to create a warm and lively feeling throughout the kitchen," commented Kathryn. "To achieve that, we brought in rustic textures and emphasized the natural light in the space."  The oil painting's textures and colors served as Kathryn's inspiration, which she translated into the painted and stained cabinet finishes, the polished and honed counter tops and the stone backsplash that had a mix of organic tones and textures.
Overall, the colors, textures and rustic accents fully achieved the warmth and the vivacious colors featured in the painting that inspired the kitchen remodel.  If you're looking for an inspired interpretation for your kitchen, request an appointment with one of our talented designers; or register for one of our upcoming educational seminars.