Your Bubble Bath Just Got Better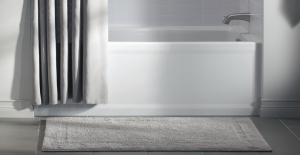 For all those who relish their time soaking in the tub, you're going to love one of Kohler's latest products.  Select tubs now come with the Bask heated surface, which heats the surface behind your back and neck as you're soaking; this eliminates that initial cold chill you experience until your skin warms the tub and creates the ultimate soaking experience.  There are three different heat settings that allow you to customize the surface heat just to your preference.
Looking for more bathroom inspiration?  Check out pictures of some of our bathroom remodeling projects!