Traditional Home Decor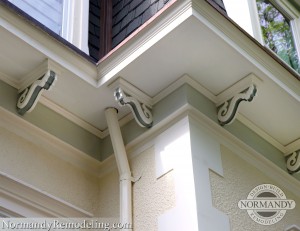 The traditional design style for homes can sometimes be confused with "old".  But really, it's a classic style that focuses on beautiful details, ornate craftsmanship and rich, warm colors.  A favorite element of the traditional style that is often incorporated into home renovations are corbels. A corbel is an architectural bracket made of wood, plastic, marble, or other materials.  Its purpose is to support a ceiling, shelf, or beam on either the interior or exterior of a home.  However, sometimes its sole purpose is simply a decoration for homeowners that like the embellishment corbels add to a space, but functionally have no need for it.
If you are planning to remodel your home, you can set up a time with one of our talented Normandy Designers to talk about the possibilities. You can also learn more about additions, kitchens, or other remodeling projects at an upcoming workshop. Check out the photo gallery or follow Normandy Remodeling on  Facebook and Instagram for even more home tips and inspiration.