This Guest Bedroom Paint Idea Has Style That Soothes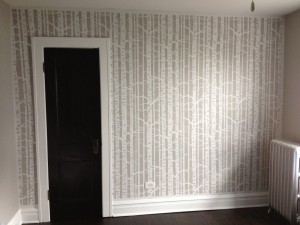 Thinking about painting your wall?  Make a statement without the fuss of wallpaper by using a stencil!  One of the Normandy Designers painted her guest bedroom using a birch stencil pattern, and the results were fabulous!
What you'll need:
-Paint and small paint roller
-Stencil
-Painter's tape
Estimated project time:  6 hours per wall
1. Paint the wall white
2. Select stencil pattern, Ann selected a birch woods pattern from etsy.com that was 2 x 3.5 ft.  A pattern like this that repeats is fairly simple to execute and gives the effect of wallpaper.  To find the stencil used in this guest bedroom makeover, click here.
3. Select the paint color for the stenciled area, Ann chose nimbus gray by Benjamin Moore (color number:  2131-50)
4. Tape the stencil on the wall using painter's tape or masking tape.
5. Paint over the stencil, move it, and re-tape it accordingly.
Now that you've started with upgrades around your home, it's time to tackle some larger-scale projects. Schedule a meeting with a designer to get started!