Normandy Showroom Undergoes Trendy Remodel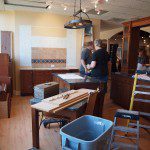 After being a popular showcase in the Normandy Showroom for about 12 years, two of the kitchen displays were ready for an update.  They're now under construction, and when they wrap up will feature a new transitional kitchen design and a modern bathroom design.
Both will showcase the hottest products in the industry and are spot on with today's most popular trends.
Normandy Designer Chris Ebert designed the modern bathroom, consisting of clean lines and dark cabinetry throughout.  It will showcase one of the cabinet lines Normandy offers, Espresso, and has a spectacular graining to it, making it hard to believe the material is oak.  "The goal of this bathroom was for it to be truly beautiful, yet cost-effective with the material," says Chris.  The bathroom will also feature the newest Kohler products.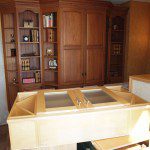 The new transitional kitchen is going to feature a painted white finish on the cabinetry, a huge trend in the industry.  "Over half of the kitchens we complete are white or off white," commented Normandy Design Manager Troy Pavelka, who is designing the kitchen.  The kitchen integrates technology into the new kitchen with a "pop-up" lift system on the island for a touch screen computer, creating a more interactive selection process for Normandy customers.  Designers will utilize the computer for quick internet access, to view past projects, and as a general aid in the selection process.  The kitchen will also showcase the latest integrated appliances, another very popular trend in the industry.
Although the pictures don't do the spectacular designs justice yet, there will be more to come – so stay tuned or come on into the Showroom and check its progress!