The Park Avenue Kitchen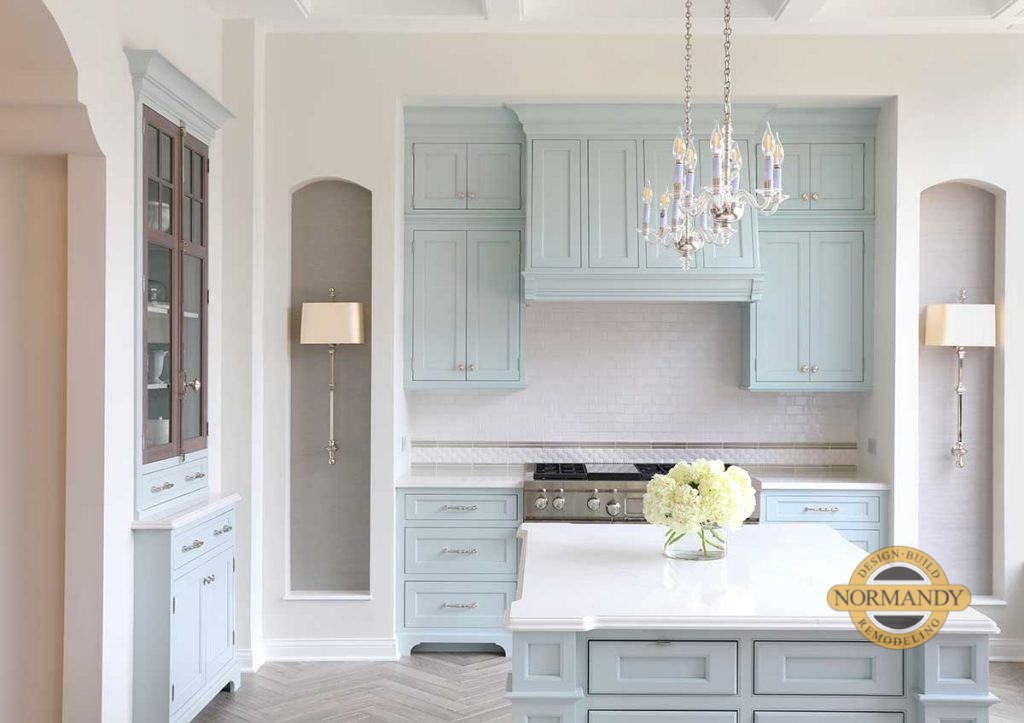 It's not often that you see a blue kitchen masquerading itself as a white kitchen. But if you look closely, you'll find many of the classic design elements that you associate with a timeless white kitchen are very much present here, just in a soft blue hue.
"This kitchen's signature charm comes from its color palette," says Normandy Designer Kathryn O'Donovan. "The pale blue color has soft green undertones and it's paired with some greyed walnut accents to create a gentle contrast. The effect is very calm and welcoming.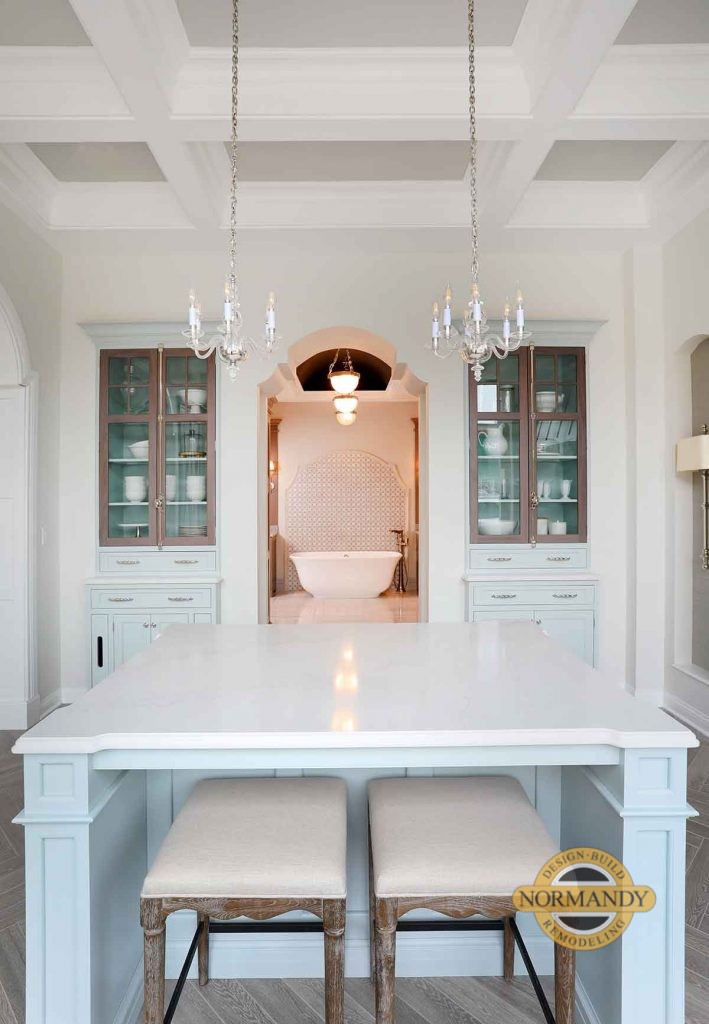 The color is the perfect backdrop for glittering accents that introduce a bit of glam into the kitchen and hint at some of the details that really define the space. "Polished nickel hardware and sconces complement the soft blue cabinetry and the warm color of the walnut," says Kathryn. "The cremone hardware on the hutch pieces and the metal mesh on the custom refrigerator door are some unexpected ways to bring in the sparkle of polished metals."
The cabinetry also hides a few unexpected surprises.  "Nearly every drawer features specialty inserts, whether they be cutlery dividers, Tupperware organization roll-outs, or adjustable plate dividers in the drawers. There is even a pull-out serving tray which blends in with the blue of the cabinetry that has a walnut bottom to match the other accents in the kitchen."
Beyond the cabinetry, the kitchen benefits from decorative sconces and a sparkling chandelier. "I wanted there to be a sense of regality throughout the space that emphasized the high ceilings," noted Kathryn. "The coffered ceiling and the crystal chandelier draw the eye upward and are a beautiful way to crown the room."
Creating a kitchen that's as timeless as it is unique is a specialty of Kathryn's. Set up a time to talk with her about your kitchen's possibilities, and find out how to transform your kitchen into one that looks like it belongs in a magazine. If you're looking to get a little more homework done first, register for one of our upcoming virtual seminars or visit our photo gallery of past projects. You can always find more home tips, tricks, and inspiration by following Normandy Remodeling on Facebook and Instagram.