3 Considerations For Designing Your New Staircase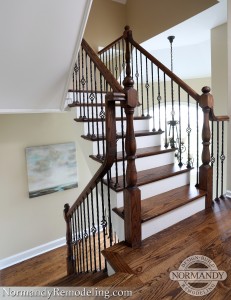 "There are three considerations that you need to take before replacing or redesigning your staircase," says Normandy Design Manager Troy Pavelka.  "A staircase is an architectural feature of a home, so it's important to put some real thought into it before moving forward with anything.
What type of staircase fits the style of the house? The newel post, pictured right,  is a key indicator of the style of the staircase.  If you have a Prairie-style home, the newel post will be simple, whereas a Colonial home will have more detailed and intricate newel posts.
What kind of budget are you working with?  The style and material of the staircase will have a direct effect on your budget. The more detailed the staircase, the higher the budget will need to be.
Does your replacement or redesign meet the required clearances?  There are necessary clearances for staircases, including headroom and safety clearances that need to be met.  Sometimes this means compromising the type of staircase design you desire for one that is safer for your family.