River Rock Retreat for a Master Bathroom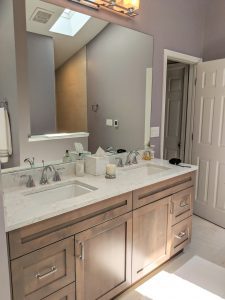 The master bath renovation of this home was a long time in the making. The bathroom was shared by four adults in the home. Not only did the bathroom finishes need to be updated but it was also in need of a function facelift that addressed the longing for a relaxing retreat.
"While the overall footprint of the bathroom was not offensive, the usage of the space did not coincide with the design trends of today," said Normandy Designer Leslie Molloy, CKD. While planning out this new bathroom, first and foremost, the shower would need to double in size. This was fairly easy to accomplish by merely including the walkway in front of the old shower. By leaving the plumbing in the same location, the additional space allowed them to forego a shower door, making it feel even bigger.
The option of frequent baths was important, so a comfortable free-standing tub was in order. The perfect solution came in a Victoria and Albert tub. The bathtub is not only stylish but the volcanic limestone makeup of the tub walls helps to retain the heat of the bathwater for long day-end soaks.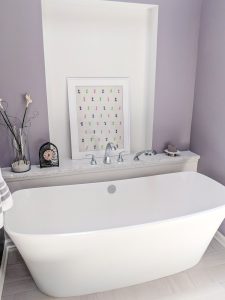 The area for the free-standing tub didn't need to be as large as it was before because it no longer has a tub deck surrounding it, so we constructed a false half wall to define the area. As an added bonus, we were able to install a roman tub faucet into the half wall and it now functions as a ledge to hold items for the bath such as soap or oils.
We wanted to incorporate a trendy gray color scheme but the remainder of their home had warmer tones.  River rock accents in the wall and floor of the shower pulled in warmer hues while still playing into their preference for gray. Continuing the same river rock accent from the floor and up the wall helped emphasize the vaulted ceiling and make the shower feel much taller while providing a focal point. "Not only did the river rock tile tie into the color palette, but it also provided great slip resistance in the shower and a spa-like feel," added Leslie.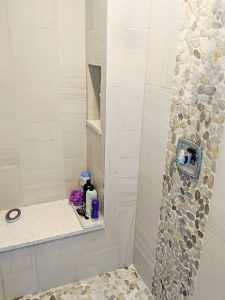 New engineered quartz countertops further continued the maintenance-free trend throughout the bathroom. Gray stained cabinets and classic, crisp chrome fixtures helped finish off the overall relaxing feeling of the bath.
Given the dramatic cathedral ceilings of the bath, radiant heating was added for the chilly Chicago winters as an added luxury.
Set up a time to meet with award-winning designer Leslie Molloy, CKD to start your master bathroom remodel. Or, register to attend an upcoming workshop to learn about the latest options to bring the spa experience into your master bathroom. You can also follow Normandy Remodeling on Facebook, Twitter, and Instagram or check out the Normandy photo gallery for more design ideas and inspiration.