When to Pick a Peninsula Instead of an Island
Peninsula or island…? That is the question. These days, it seems like everyone wants an island in their kitchen. But, can a peninsula be a better choice? Here's how to determine when a peninsula makes the most sense.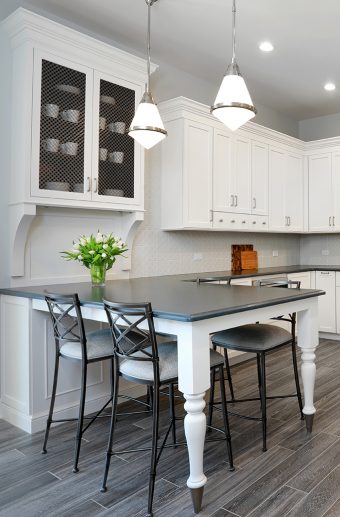 The first step in understanding whether a peninsula or an island would be a better fit is to look at your existing layout and determine what would be the best use of space. This is particularly important if your kitchen is smaller in size or somewhat narrow.
Islands require a lot of real estate in your kitchen to function properly. To move around them, you need comfortable clearances on all four sides, and when appliances are in the mix that clearance requirement goes up to 42″ or more by the NKBA. Because you only pass around your peninsula on three sides, it's often a better option when space is limited.
In smaller kitchens, you may be tempted to create a slim island, but peninsulas have an advantage in this scenario as well. Modest size kitchens can find that even a small island feels like an awkward obstacle in the center of the room. Choosing a peninsula in this scenario will help keep your space feeling open and comfortable.
If you're concerned about the space on the wall perpendicular to the peninsula, fear not, there are some great ways to utilize that area. For example, you can add an appliance garage with a cabinet that comes down to the countertop. Or, put in some drawers and make it a mail area. Either way, it gives the space purpose.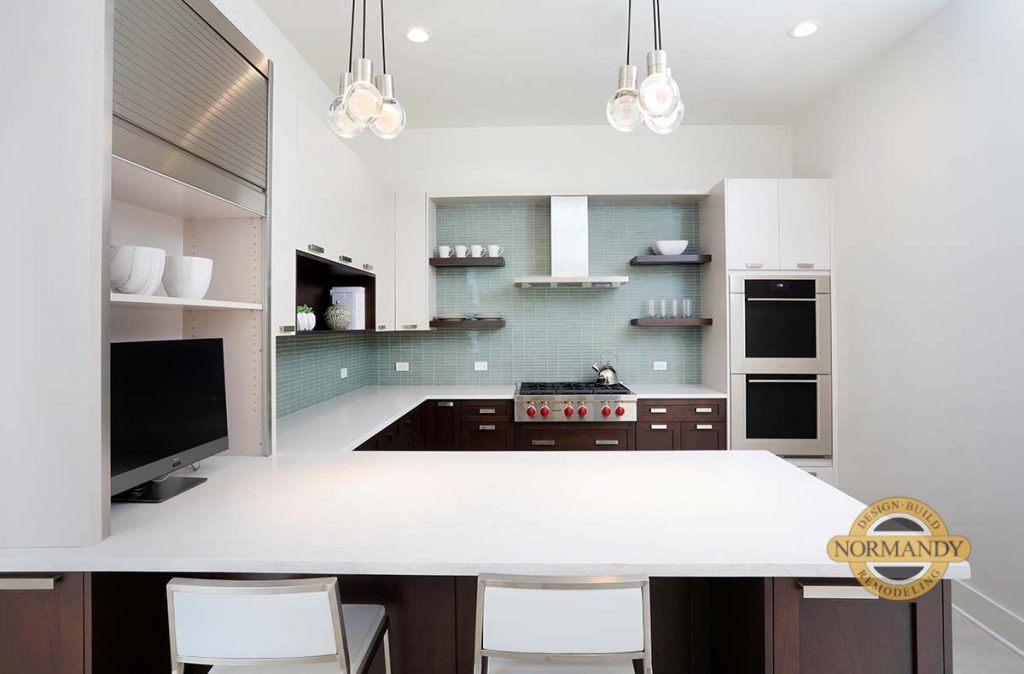 If it turns out that a peninsula is better for your kitchen, don't worry. They still have plenty to offer. Similar to an island, they provide storage, seating and a long stretch of countertop. They can also be used as a gathering space, a work station, for food prep or for serving food buffet style when entertaining.Of course, if you have your heart set on an island but don't have the space, there's always the option of expanding your kitchen with a small addition.
Set up an appointment with a Designer to start planning your kitchen remodel in more detail. Or, register to attend an upcoming workshop to learn more about the renovation process in more detail. You can also visit the Normandy photo gallery or follow Normandy Remodeling on Facebook and Instagram for more inspiration and ideas.