Normandy Remodeling Prevails at NARI Remodeling Excellence Awards;Wins in Multiple Design Categories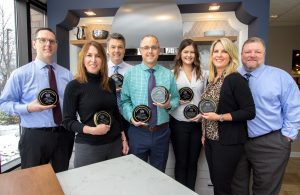 The National Association of the Remodeling Industry (NARI) recently held their annual Remodeling Excellence Awards, where Normandy Remodeling was honored with eight awards within the kitchen remodel, home addition and bathroom remodeling categories.
The Remodeling Excellence Awards are bestowed to Chicagoland designers and contractors who have demonstrated exceptional designs in remodeling projects within the past year. Each design was evaluated by a diverse and impartial panel of judges, comprised of industry experts. Projects were judged on problem solving, functionality, aesthetics, craftsmanship, innovation and degree of difficulty.
The eight awards bestowed to Normandy Remodeling represent the work of Normandy Designers Karen Chanan; Maury Jones; Ashley Noethe; Jeremy Paris; Laura Barber, AKBD; and Vince Weber. Overall, projects range from single interior remodels such as kitchens and bathrooms to more sweeping renovations such as whole basement remodels or home additions.
"We love to help our clients get the home they always wanted and make them happy, and when the design industry recognizes our work, it's an added bonus," said Normandy President Andy Wells. "I am so proud of our hard working, highly talented design team."
We'll be sharing details about all the award winning projects in the coming weeks. Watch for the project highlights to see photos of these award-winning renovations.
If you're looking to get a renovation started for your own home, you can set up a time with one of our talented Normandy Designers to talk about the possibilities. You can also learn more about remodeling projects at an upcoming workshop. Visit the Normandy photo gallery or follow Normandy Remodeling on Facebook, Twitter and Instagram to see more photos of our award winning work