New Spin on Bathroom Banjo Countertops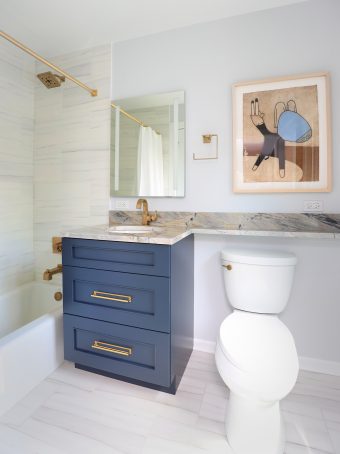 Bathrooms seem to never quite have enough storage space, something that is especially true for smaller bathrooms. When it comes to finding creative ways to make the most of every inch, it pays to consider every option to maximize your bathroom's storage space.
While cabinets and shelves rightly get a lot of attention when talking about storage and organization, you can also find some extra usable space by extending your bathroom vanity countertop.
A banjo countertop is what designers call the unique shape of a countertop that starts at a standard size and depth for your bathroom vanity but then narrows down to a more shallow depth as it carries over the tank of the toilet.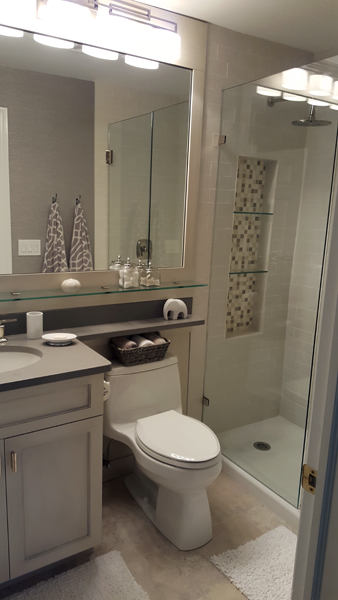 Traditionally, it was used primarily for more countertop space; however, oftentimes today it's completed with a cabinetry tower on top of it to create additional storage.
They can be an especially useful storage solution in a smaller bathroom and putting something like a cabinetry tower on top of the banjo countertop helps tie it in with the rest of the vanity.  One thing to keep in mind with banjo countertops is that the toilet tank needs to be much lower than the countertop to access the tank, something to keep in mind as you're making your toilet selection for your remodel.
Finding unique bathroom storage options is just one of the ways Normandy designers can work magic in bathroom remodels. Set up a time to talk with a designer about remodeling your bathrooms, or check out our photo gallery for more inspiration. You can also find tips, tricks, and trends on Normandy's Facebook and Instagram accounts, or watch our event calendar to find an upcoming bathroom remodeling seminar to learn more