Modern Toilet Ideas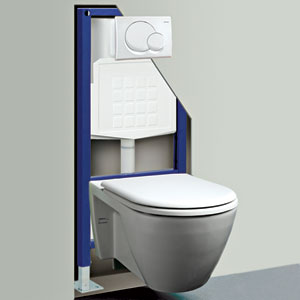 Tankless toilets offer more than just aesthetic appeal. A tankless toilet is just how it sounds – the tank is actually enclosed behind the wall. Their streamlined forms and relatively small sizes mean they save space in your bathroom and their advanced flushing method can help save water, too.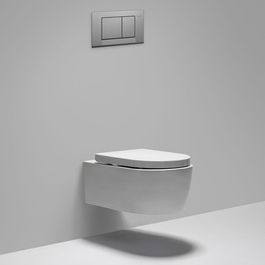 Geberit is a brand that offers a tankless toilet, as shown in the picture to the left.  "The advantage of this type of toilet is that it takes up less space in your bathroom because there's no tank protruding into the room.  It's also easier to clean because you don't have to work around anything on the floor," says Normandy Designer Laura Barber.  "It also has the ability to be hung at custom heights to better accommodate someone very tall or short.  Another benefit is that most of the Geberit toilets incorporate dual flushing technology, making them more water-efficient."
Access to the tank can be found by easily removing the metal control plate, and then you'll find the tank right behind the wall.
"I would recommend this type of toilet for a more contemporary style bathroom," commented Laura.  "It has a sleek, clean design that doesn't fit in as well in a traditional bathroom as well as a more ornate, detailed toilet style.
These toilets aren't a good fit for every home, though. They work differently from conventional toilets, so if you're thinking about installing one, make sure you understand the requirements before you decide.
If you are thinking about updating your bathroom or contemplating more extensive changes to your home, you can set up a time with Laura to talk about the possibilities. You can also learn more about bathrooms and other remodeling projects at an upcoming workshop. Check out the photo gallery or follow Normandy Remodeling on Facebook and Instagram for even more home tips and inspiration.