Make a Splash with Mosaic Pattern Tiles
Picking out tile for your kitchen or bathroom remodel is not as simple as you imagine. There is so much variety out there in design, color and texture – it makes the aesthetic impact just as important as the function. The right tile choice can make a stunning focal point in your space, so it pays to choose wisely.
"Accent tiles have always been around but recently we've seen an uptick in the trend," said Normandy Design Manager, Leslie Molloy, CKD "The mosaic pattern is a replacement for the murals of fruit or the harvest that we had seen in the past."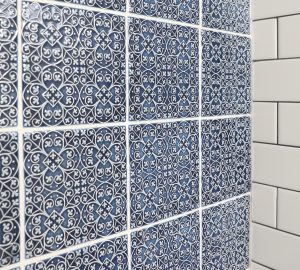 Whether in your shower, kitchen backsplash or behind your range, its graphic pattern is the perfect accent to any room. Choosing subtle hues or bold contrasting colors will lure you in, based on the palette of the rest of your room, and how creative you want to be.
"Patterned tiles emulate wallpaper and they are easy to care for," added Leslie. "They can even be installed in an intricate grid pattern allowing grout lines to disappear."
Geometric tiles come in diverse patterns and range from traditional to modern. They can be a great way to combine different design styles throughout your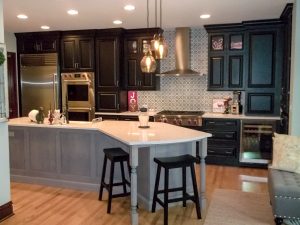 room seamlessly. The bold patterns are eye-catching and great to offset other subdued tile or cabinet selections. The pop of pattern can lift your space to a whole new design dimension.
Why not give your kitchen or bathroom a stand-out feature such as a mosaic pattern feature wall? If you are looking to remodel your bathroom, kitchen or contemplating more extensive changes to your home, you can set up a time with Leslie to talk about the possibilities. You can also learn more about additions, kitchens or other remodeling projects at an upcoming workshop. Check out the photo gallery or follow Normandy Remodeling on Facebook and Instagram for even more home tips and inspiration.