Kitchen Remodeling Trends That Stand Out For 2019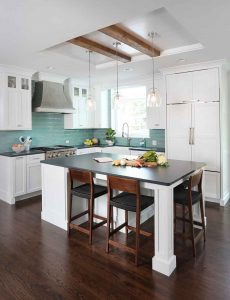 The kitchen used to be tucked away in the back of the house, now; it is paraded in all its beauty and warmth and is the center of attention. For 2019, the general trend for kitchens is towards personalization. When it comes to color, finishing, and overall design; homeowners want something unique and personal.  Below our, Normandy Design Team expands on the tried and true kitchen trends that have been building for several years and have staying power for 2019 and beyond. So, what trends will you opt for?
 Rich Color – People are adding a pop of color–especially popular in white kitchens and neutral palettes. Whether it's a big dose, think cabinetry, or small touches such as fun accessories, color can do amazing things for a kitchen.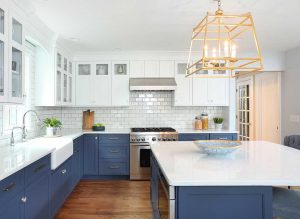 Mixed Metals – Gone are the days when everything needs to match. Mixing metals can create chic combinations –silver fixtures and appliances paired with gold details on the cabinetry. Mixing metals doesn't have to be dramatic. Choosing two similar—but not identical finishes is an easy way to baby-step into the trend.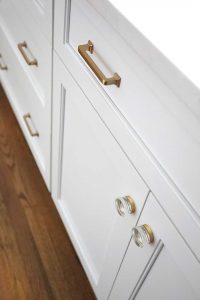 Apron Front Sink – Farmhouse sinks, as they are also called, are wide and deep enough so you don't have to worry about water splashing as you're cleaning the dishes. There are a ton of varieties to choose from– stainless steel, cast iron, and stone to name a few, allowing you to personalize your look.
Color Wash Wood – People are upgrading woodgrain finishes and are willing to play with more color, especially in the gray tones. Gray offers the perfect balance of warmth and neutrality and lets the beauty of wood come through. It's a good choice for those who don't want to paint cabinets but want something different than a typical stained cabinet.
 Reclaimed Wood Using organic materials will never go out of style. Reclaimed wood lends a sense of history to your kitchen and gives you a story to tell. There are plenty of fantastic opportunities to incorporate the salvaged timber into your design, from floors and cabinets to exposed shelving and even ceiling beams.
Metal Hood – The addition of a metal hood above a range can add a focal point to your kitchen and break up the continuity of wood cabinets – just like your favorite accessory. Design accordingly! Copper, stainless, polished, hammered, rivets, the combinations are endless.
 Industrial Chic –The edgy look of restaurant kitchens has gone mainstream. Certain elements, such as exposed bricks, professional-grade fixtures, and metals are becoming staples and can create kitchens that range anywhere from relaxed to refined.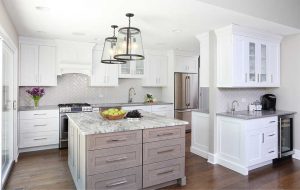 Counters with Movement – Kitchen countertops let you make a statement that contributes to the aesthetic of the kitchen and the rest of the home. More exotic stones like quartzite will give you elaborate swirls and natural veining creating visual texture. You can also find realistic stone patterns with some type of movement in man-made products such as quartz.
We hope these ideas have sparked interest and excitement for the kitchen trends you can expect to see this year and beyond. If you'd like to get started on bringing your kitchen up to date, set up a time to meet with a Normandy Designer to discuss how to incorporate your favorite trends into your space. You can also register to attend an upcoming workshop or follow Normandy Remodeling on Facebook, Twitter, and Instagram for more inspiration and insights.