Kitchen Remodel with Mediterranean Influences
European accents mixed with a traditional aesthetic might sound like a tall order, but when you've got a kitchen large enough to do so, the sky's the limit. For these homeowners, they wanted to incorporate a Mediterranean element in their kitchen remodel that was true to their roots. Their element of surprise? A natural stone hood.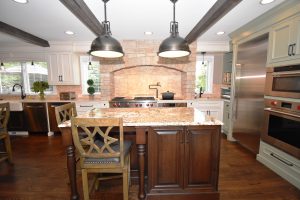 Typically, you'll find natural stone bricks like this limestone on a home's exterior or a fireplace. But for this family, they wanted to incorporate that rough stone into their kitchen's hood as a decorative element versus a functional one. "Each individual piece of stone is unique, so once you put all the pieces together with different shapes and color, it creates that natural and rustic look that makes it so charming," says Normandy Designer Leslie Lee.
Although limestone requires no special maintenance, it does have the opportunity to be sealed, which would protect the material from oil and grease stains. In this case, they opted to leave the stone unsealed since the majority of the exposed rock was not directly exposed to the cooking surface. "For the backsplash, which is more vulnerable to cooking splatters, they selected a matching marble tile that is easier to keep clean but maintains the continuity of the look," notes Leslie. "The smoother finish of the marble tile will be easier to wipe down and keep clean after everyday use. But a word of caution – marble is still a porous natural stone, so splatters should be cleaned immediately and the tile should be sealed often to prevent staining."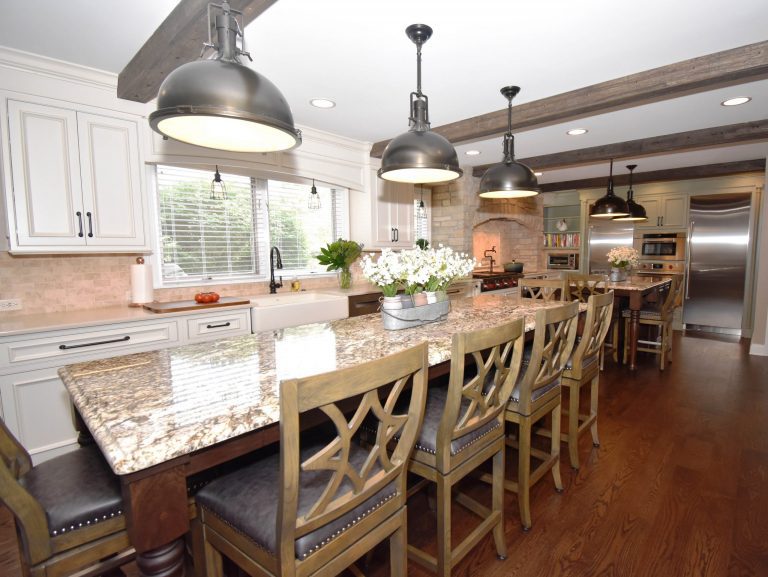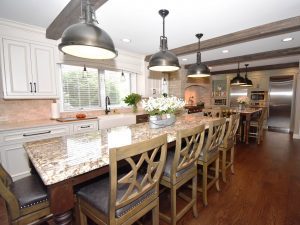 Integrating Mediterranean influences like this rough stone hood into a rather traditional home is a bit easier to manage in a larger kitchen, where a variety of materials and colors can work together cohesively. "This kitchen incorporates three different cabinetry colors and stains, including mahogany, a cream paint, and my favorite, a soft sage green tone," Leslie notes. "Typically, three colors of cabinetry is a design don't, but larger spaces allow you to be a bit more creative as pops of color don't seem nearly as overwhelming as they would in a rather small space."
If you've got your heart set on a one-of-a-kind design element for your kitchen remodel but need some help to incorporate it into your design, set up a time to talk with Leslie. You can also learn more about a wide variety of remodeling projects at one of our upcoming virtual webinars, or find even more home remodeling ideas to get your creative wheels turning on Facebook and Instagram.