How To Become A Certified Kitchen And Bath Designer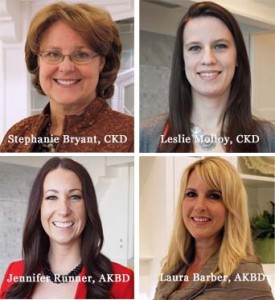 Oftentimes you'll find we use letters of professional designation behind some of our designers' names, whether that be AKBD or CKD.  But unless you're thoroughly involved in the remodeling industry, there's a good chance you might not know what those letters stand for.
To start, the National Kitchen and Bath Association (NKBA) is an industry organization that provides resources, training and more to designers.  One must go through their testing and training to become officially accredited.
An Associate Kitchen and Bath Designer (AKBD) will have met the following qualifications, per the NKBA website:
2 years experience or combination of experience and formal education
30 Hours of NKBA professional development courses or NKBA approved college coursework
2 professional affidavits
Pass the written exam
And a Certified Kitchen Designer will have met the following qualifications, per the NKBA website:
7 years experience or combination of experience and formal education
60 Hours of NKBA professional development courses or NKBA approved college coursework
2 client references
2 professional affidavits
Pass the 6 hour drawing exam for either kitchen
Pass the AKBD academic exam and the CKD Design exam