We've Got Your (Heated Tub) Back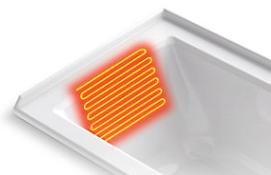 You know the glorious feeling of basking in a warm bubble bath? Well then you've also experienced the uncomfortable sensation of your shoulders and neck being wet, cold, and not quite submerged like the other 90% of your body. Awkward right? Well we've found a soothingly warm solution to solve your chilled back. Heated bathtub backings are the perfect addition to keep your oh-so-chilly back and neck heated as you soak.
"A heated bathtub back is like a seat warmer in your car, but for your bath instead. Warmed by built-in heating elements, your back, neck, and shoulders get to indulge in a soothingly warm and cozy experience too," says Normandy Designer Kelly McDermott.
A heated bathtub backing is a great addition to your bathroom renovation as it creates an at-home spa like experience. "Because what better way than to come home from a long day at work and lounge in this luxurious upgrade?" states Kelly. "Not to mention, it's been said that when seated in a heated tub, the hot water helps to increase circulation in addition to relaxing your muscles and releasing toxins."
"Heated tub backings are a great upgrade for soaking tubs, making these popular bathtubs even more attractive," says Kelly. "This may be due to the fact that they require less maintenance and are deeper and larger than a standard tub. The heated backing happens to also keep water warmer for longer."
If you are considering renovating your bathroom with a luxurious option like a heated bathtub backing, set up a meeting with Kelly, or visit one of our upcoming workshops. Make sure to follow Normandy Remodeling on Facebook and Instagram for more remodeling inspiration.