Making the Case for a Handheld Shower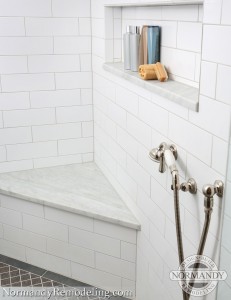 A great showering experience is high on everyone's priority list when remodeling the master bathroom. Perhaps it should come as no surprise then, that people who do their homework frequently opt to include a handheld shower in their new space.
Flexible and versatile fixtures and handheld showers are often installed near a shower seat or bench as a secondary water source in the shower.  Many people tend to underestimate how often they will use a seat in their shower, but the truth is we all have the same potential to get sick or injured, or even simply fatigued. Placing a handheld shower next to a bench allows you to still enjoy your shower even if you can't stand for long periods of time, or if you just want to relax and enjoy a water massage.
Handheld showers can work in tandem with a traditional, fixed shower head, giving you the opportunity to concentrate the spray on two different areas of your body at once.  They also tend to have several different spray options that allow you to customize your bathing experience.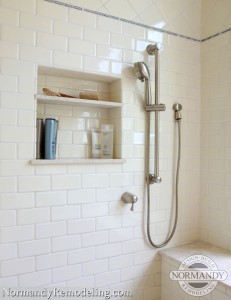 They can either be mounted in a single location or can be attached to a slide bar.  The bar gives you greater flexibility for height and positioning during use and allows for hands-free operation. You may be able to use a handheld shower on a slide bar as your primary showerhead and omit the fixed-position showerhead. That gives you the benefits of hands-free showering as well as the ability to move around the spray as needed, and depending on your selections, may allow you to save some money on your remodel.
One of the most practical, and frequently overlooked benefits of a handheld shower, is that it makes cleaning the shower itself much easier.  By having the ability to simply spray down the walls after cleaning, you save time and frustration.
Determining the right mix of sprays and water sources for your shower is just one piece of the puzzle when creating a remarkable Master Bathroom.  Have a conversation with a Normandy Designer about your primary suite remodel, or register to attend one of our educational bathroom remodeling seminars.