Time, Talent, & Treasure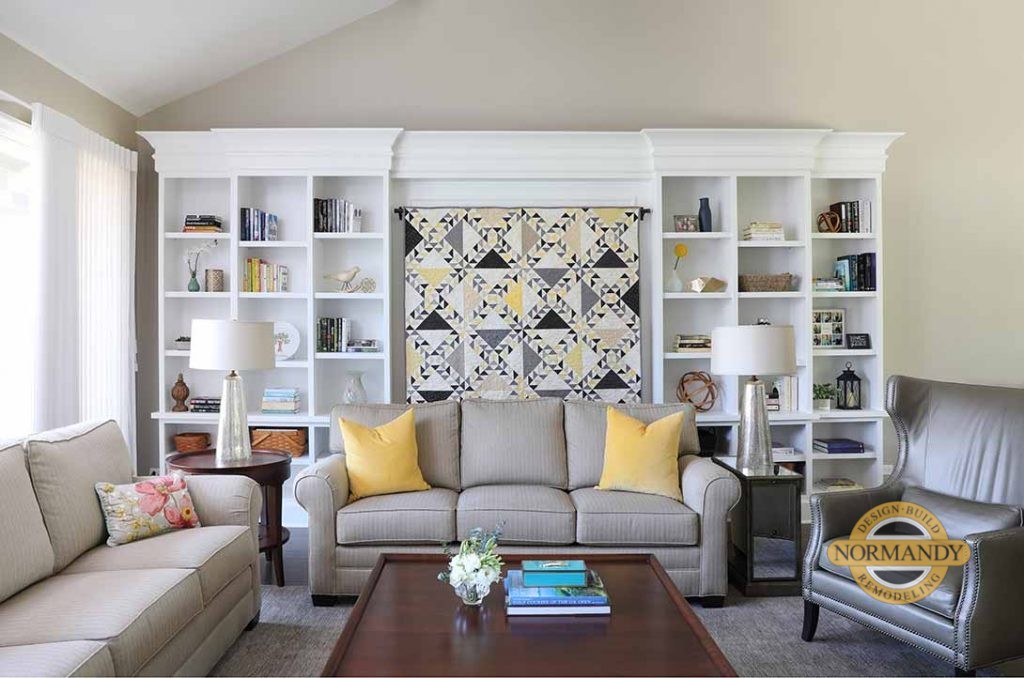 It was time for this retired empty nester couple to downsize, so they purchased a home in Oakbrook. They were concerned about storage and space to display everything they loved. He has become a voracious reader and book collector since he retired and she has more time to quilt.
Quilting is more than a hobby for this homeowner; it is something that she's passionate about. A lot of her time is spent creating beautiful quilts, that is, when she is not baking with her grandchildren in their award winning newly remodeled kitchen.  Like any other collection that is curated over the years, she felt that her quilts deserved more than just storage. She wanted her work to be on display and celebrated.
"We decided on the perfect spot in their living room to build a 20'custom built bookcase to accommodate her quilts, which she plans on changing out monthly," said Normandy Designer Laura Barber, AKBD. "We were sure to make room for his growing book collection as well. It's really a great focal point in their home and definitely a conversation starter for guests."
"I was thrilled that we could provide a convenient and beautiful way for them to display their treasured items in a visible location for them to be proud of every day," added Laura.
If you are thinking of remodeling your home, set up a time with Laura to talk about the possibilities. You can also learn more about additions, kitchens or other remodeling projects at an upcoming workshop. Check out the photo gallery or follow Normandy Remodeling on Facebook and Instagram for even more home tips and inspiration.