Custom-Built Entertainment Center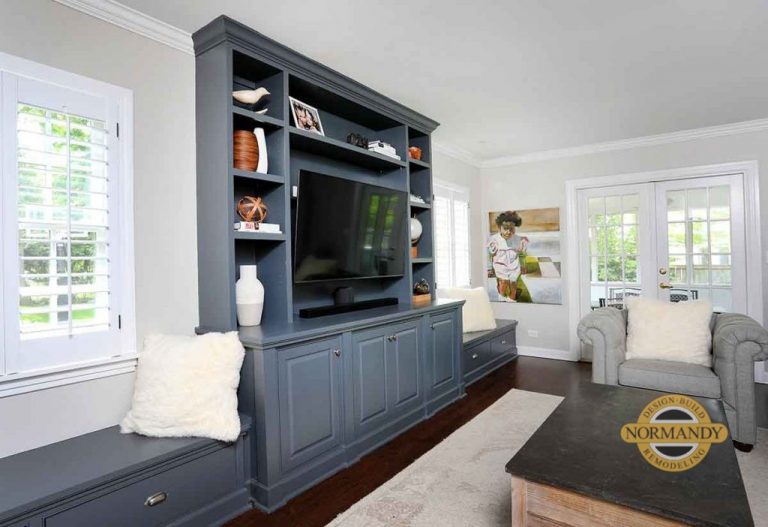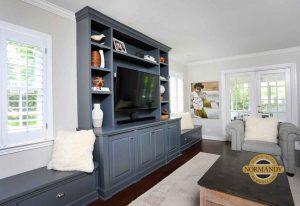 As you get ready to hibernate for the winter, you will most likely spend a great deal of time in your favorite hibernation spot – your family room. One of the best ways to stay cozy and happy is a custom entertainment center built around your needs, wants and your room's layout.
"This floor to ceiling media center was retro-fit around the existing cabinet according to the family's wish list. They needed a bigger opening to hold their TV, but wanted to keep their extra seating and storage," said Normandy Designer Kathryn O'Donovan. "The shallow upper cabinets are deep enough for books and their TV fits perfectly now, but it won't block the natural light from the windows."
"Painting the window seats the same color as the cabinet anchors the entertainment center and ties it all together making it a focal point in the room," added Kathryn.
The beauty of a custom-built entertainment center is that it caters to your needs and you choose how your center works. If you are planning a remodel or design change to your home, you can set up a time with Kathryn to talk about the possibilities. You can also see more additions, kitchens or other remodeling projects on our photo gallery or follow Normandy Remodeling on  Facebook and Instagram for even more home tips and inspiration.