Pros and Cons of Marble Countertops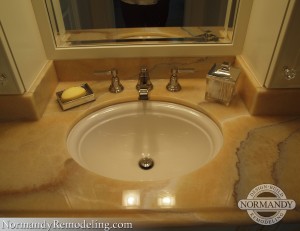 Marble countertops are an absolutely stunning natural stone, but do the cons outweigh the pros for choosing it as countertops in your bathroom?  Let's start with the cons:  marble is one of the softest natural stones, meaning it can stain and etch easily.   Like most natural stones, marble needs to be sealed once or twice a year.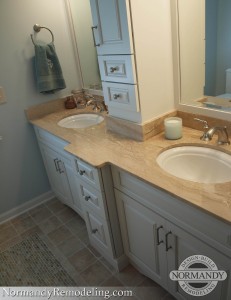 Now onto the pros:  as mentioned earlier, marble is absolutely breathtaking, and it's not something you're going to see in every home.  Most people typically  think of white Carrera marble, but there are so many more color options out there, as the marble countertops in this Naperville bathroom remodel fabulously demonstrate.
"Marble bathroom countertops come in a variety of colors, which can make them beautiful accent pieces." says Normandy Designer Jennifer Runner, "While there's definitely maintenance involved, there's nothing that compares to natural stone."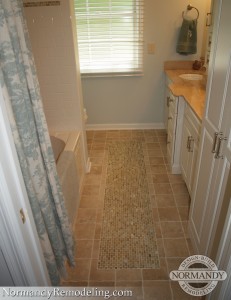 This white bathroom is a great example of how to incorporate accent colors, such as the warm marble countertops and tile accents on the floor and shower.  Jennifer and the homeowners were thrilled when the bathroom was awarded Remodeling Excellence by the National Association of the Remodeling Industry.  "It's the most rewarding feeling to not only have your homeowners' wishlist fulfilled and achieve their ideal space," commented Jennifer, "but to be recognized by the industry is a great reminder that staying on top of the latest remodeling trends, products and techniques is completely worth it."
Set up a complimentary, in-home consultation with Jennifer today to get your Chicago bathroom renovation started!