Bathroom Remodeling Trends for 2019
You may not think of bathrooms as being subjected to trends, but they absolutely evolve as people's preferences change. We've talked with the Normandy Designers to find out what they're expecting to see in master bathrooms this year, and we think you'll like what they have in mind.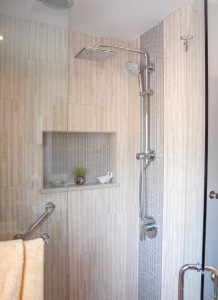 Streamlined Showering – Just a few years ago people were installing elaborate showering systems with showerheads, water tiles, and rain showerheads. Today, people are still indulging in a little daily water therapy, but more people are opting for a simplified shower system. Mounted on a single rail, these systems combine two common fixtures (typically a combination of a rain shower, hand-held shower, or standard showerhead) with fewer handles and dials. By consolidating these functions into a single fixture, it allows you to get a lot of functions at a lower price point, which is a big part of their appeal.
Matte Black – Matte black is having a moment, and for good reason. It is showing up everywhere in the bathroom from sinks and showerheads to tile and cabinetry. Plus it goes with everything, just like that little black dress.
Patterned Tile – If you love the look of artisan-made, old-world patterned tiles, you are in luck, it's making a grand appearance in bathrooms for 2019. Cement-look tiles are being adorned with patterns that give the appearance of being hand-painted. These tiles create some dramatic interest without the expense of mosaic tiles.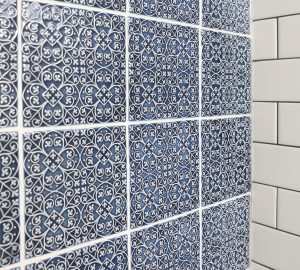 The Fifth Wall – I know what you are thinking; most rooms have four walls… but in the bathroom, the ceiling is trending as your fifth wall. The ceiling is a blank canvas, and adding beams, skylights, or architectural details can transform your bathroom from so-so to stunning. Plus it will draw your eye upward, making the room look even more spacious.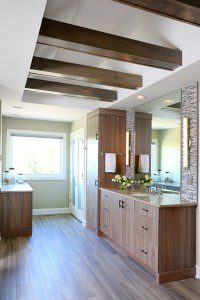 Mixed Metals – Gone are the days when everything needs to match. Mixing metals can create chic combinations –silver plumbing fixtures paired with brushed brass lighting. Mixing metals doesn't have to be dramatic. Choosing two similar—but not identical finishes is an easy way to baby-step into the trend.
Get a Grip – Adding convenience and safety to your bathroom is not a new concept but the fixtures that are available now are more attractive and can have a dual purpose. A custom heated bench is a great addition for shaving or resting after a long tiring day. Grab bars with a shelf that lets you personalize your shower with beautiful thoughtfully designed storage.
Whether you're drawn to the trends of 2019 or prefer the timeless approach to your master bathroom, finding a design that's just right for you is key. Set up a time to meet with a Normandy Designer to discuss your master bathroom or reserve your place at an upcoming bathroom remodeling workshop. You can also follow Normandy Remodeling on Facebook, Twitter, and Instagram for more inspiration and home remodeling insights.