AAUW After Party Menu Sneak Peek
This is just one of the delicious recipes on the menu for the fabulous After Party at Normandy following the AAUW Home Tour on Sunday, September 30!  The amazing chefs from Sub-Zero Wolf will be preparing all sorts of goodies for attendees, and it's not too late to get your tickets!
Grilled Shrimp and Jalapeno Risotto Ingredients
•1/2 cup olive oil, divided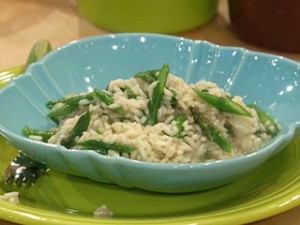 •1 cup dry white wine
•1 medium onion, chopped fine
•4 cloves garlic, chopped
•3 cups uncooked Arborio rice
•6 cups Jalapeno stock
•Salt and pepper to taste
•3 tablespoons sweet butter
•1/3 cup grated Parmigiano-Reggiano
•10 sprigs of Italian parsley, leaves only, chopped
Directions
Make risotto by heating a few tablespoons of oil in a large casserole dish over medium heat. When oil is warm, add onion, and garlic, and sweat for 5 minutes. Add rice to casserole and sautee for 3 minutes coating rice with oil. Stir continuously with a wooden spoon. Add 1/2 cup wine and reduce till almost dry. Add broth as needed, 1/2 cup at a time. Add salt and pepper to taste.
When the risotto is still al dente, blend in the mixture and finish with butter and cheese. Garnish with parsley leaves over risotto and serve.